Some of our guests are worried about a wild rumor that's been circulating since last week about the death of Vladimir Putin.
Our sources have not confirmed that such an incident ever took place. They don't even want to entertain the idea.

There's a war going on and the enemy always want to know where we are all the time. That's why they have NSA, GHCQ or the so-called "Five Eyes".
It's funny that for a few days that they haven't seen Putin, they already miss him.
The sources of these rumor came from Debka which is a pro-Netanyahu medium, and another source is said to be Reuters which is owned and controlled by the Rothschilds.


Russians don't play this type of a game.
Last 2 days ago, RT has written an article about this…
Our humble opinion on this matter is simple: We can't anchor our future on just one man. We will be at a disadvantage if we rely too much on a "charismatic leader".
We need to take in more responsibilities and  start doing the jobs we needed to do.
Surely, we can all do something…
'His handshakes break hands': Press secretary dismisses Putin illness rumors
Published time: March 12, 2015 10:41
Edited time: March 12, 2015 12:26


Vladimir Putin's press secretary has dismissed reports that the Russian president is ill as rumors, adding that the news itself could be a result of "spring madness" among some reporters.
"No need to worry, everything is all right. He has working meetings all the time, only not all of these meetings are public," Dmitry Peskov said on Thursday in an interview with Echo of Moscow radio. He added that the president is "absolutely healthy" and that "his handshake is so strong he breaks hands with it."
Shortly before the radio interview Peskov dismissed the rumors of Putin's possible illness in an interview with TASS.
"As soon as the sun appears in spring, when the smell of spring is in the air, some people suffer from crises. … Some have hallucinations about the government dissolution and some cannot see Putin on television for several days," he said. "We have a calm attitude to such crises and keep answering all questions in a patient manner."
News of Putin's alleged health problems was initially circulated by Reuters in a report about the postponement of the president's visit to Kazakhstan.
"It looks like he has fallen ill," an unnamed source in Kazakhstan's government told the agency. However, reporters and bloggers quickly inflated that suggestion into the size of a statement, seeking comment from the Kremlin.
Read more: Spokesman denies media speculation over Putin's health problems
The current situation is reminiscent of November 2012, when Russian and international media outlets suggested that Putin's state of health had deteriorated. Journalists pointed out that the president's visits to Moscow from his suburban residence had become less frequent and that he had canceled several international trips because of back pain.
Back then Peskov categorically dismissed allegations that Putin's state of health was affecting his work schedule and reminded reporters that Putin had been a semi-professional sportsman. As with any sportsman, he nurses a lot of old injuries, but they do not limit his professional activities in any way.
In December 2012, Putin personally addressed the issue during a major press conference. He claimed the false reports about his health problems had been circulated by his political opponents who sought to question his ability to run the country.
 source »

Thanks to our guest Moeder who has just provided us with the link to this article…
Valdimir Putin's public absence related to the Russian Orthodox Lenten schedule
The West takes advantage of Putin's religious downtime by circulating a false story regarding his death, when they know he's in his annual Lenten period of monastic silence.
Russian President Faces Biggest Challenges Ever In 2015: Decisions About 9/11 Truth And The Ukraine Require Profound Spiritual Contemplation

The Millennium Report
The leadership of the Anglo-American Axis (AAA), led by a highly secular government in the USA, knows exactly where President Vladimir Putin is, just as the Russians always know where President Barack Obama is.  Given the highly advanced state of the art of information technology, as well as the extremely efficient workings of both Intelligence Agencies and Secret Services, the whereabouts of a major head of state has become fairly easy to determine… with absolute certainty.
This now normal state of affairs is exactly why the AAA is using the Mainstream Media to disseminate a patently false and malicious story about Putin's death.  Since Putin is known to be a regular religious recluse, the West can confidently make mischief whenever he takes his extremely valuable monastic downtime.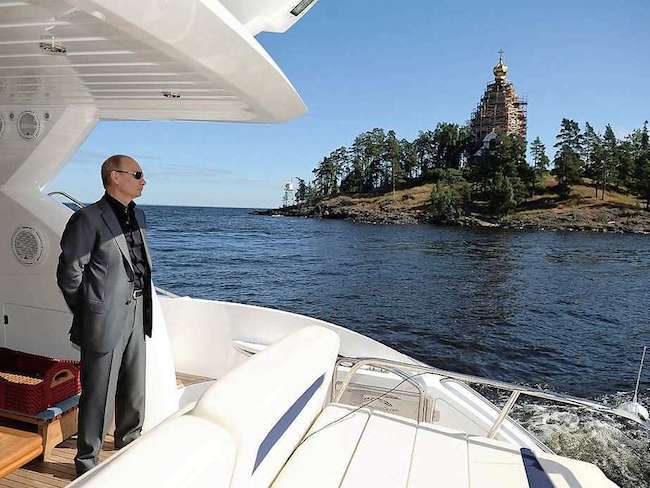 The AAA knows that Putin is facing the biggest decisions of the year.  They are also well aware of his yearly religious practices in which he seeks out the highest spiritual guidance in order to make the best decisions, both personal and governmental.  What better way to disrupt his necessary monastic ritual than to spread fabricated rumors — worldwide — that he has passed away.
Of course, the CIA uses their main tool Facebook to viralize the MSM psyop.
continue reading »
One of the sources of funds for the Cabal is Big Pharma. It also serves as the weapon of mass destruction via vaccine tainted with live virus it is suppose to protect us from, and the deadly chemicals use to treat our diseases that they caused through our GMO / pesticide contaminated food supply.
We can avoid using drugs, defeat any viral attack and scaremongering easily by knowing how to build our own comprehensive antiviral system. Find more about it here.
You can actually participate in the global efforts to cripple the Deep State organized criminal cabal's ability for genocide, while enjoying healthcare freedom at the same time, by boycotting Big Pharma for good.