United States continues to suffer from isolation. Every time it launches asymmetric offensive against its perceived enemies, the fallout comes just as hard.
The bully has lost the schoolyard.

Buenos Aires Development Forum Paints US as Threat to Latin America
22:27 14.03.2015


Speakers at the First International Forum for Emancipation and Equality have sharply condemned US policy toward Venezuela, with Bolivian Vice President Alvaro Garcia Linera saying that the US poses a threat not just to Venezuela, but to Latin America as a whole.
© AP Photo/ Ariana Cubillos
Venezuelan Opposition Leader Would Be Considered 'Terrorist' in Spain
Participants at the International Forum for Emancipation and Equality in Buenos Aires have sharply condemned US foreign policy, with Bolivian Vice President Alvaro Garcia Linera going so far as to say that the US poses a threat not just to Venezuela's sovereignty, but to the sovereignty of Latin America as a whole.
"The United States poses a threat to the sovereignty of the countries of Latin America. It constitutes a serious threat to the lives of Latin Americans," Linera noted, adding that the US and Europe should recall their bloody history and remove their military and predatory corporate influence from the countries of the Third World before demanding political concessions from Venezuela.
Ignacio Ramonet, Spanish journalist, writer, and co-founder of Media Watch Global, agreed with Linera, commenting on what he sees as concrete instances of US interference in the internal politics of both Venezuela and Brazil. Ramonet stated that not a single day has passed since the death of Venezuelan President Hugo Chavez that the US and its allies have not planned for the overthrow of that Maduro government, citing a recent coup plot involving the bombing of the presidential palace and the murder of President Maduro and National Assembly Chairman Diosdado Cabello. "Now…Barack Obama has thrown off his mask, thrown morality aside and threatened Venezuela with a naval blockade," Ramonet added.
© Sputnik/ Igor Mikhalev
US Lawmakers Urge Revoking Venezuela Diplomat Visa Over Opposition Comments
Ramonet stated that in his view, the Brazilian corruption scandal involving the partially state-owned oil company Petrobras is part of a "campaign aimed at delegitimizing the Brazilian government and resulting in new presidential elections, preventing the president from completing her term." The journalist pointed out that in the Brazilian Prosecutors' case against 54 officials, including 12 senators, 22 members of parliament, and the speaker of both the parliament and the senate, all but one are members of the governing coalition.
Pointing to the popularity of the democratic socialist policies promoted by Hugo Chavez and his counterparts throughout Latin America over the past 15 years, Ramonet noted that these policies are supported by the working masses because they have been successful in pulling 50 million people out of poverty and giving these people back their dignity.
On Saturday, Konstantin Kosachev, the head of Russia's Federation Council Committee on International Affairs, noted that Russia was concerned that the US may be planning a "déjà vu" repeat of the "Ukrainian scenario" in Caracas. Kosachev stated that the technology for producing revolutions includes street demonstrations, loud accusations of corruption against authorities, followed by "concern" from the US State Department over local law enforcement "exceeding the norms of permissible force," along with sanctions.
© REUTERS/ Jorge Silva
Venezuela Seeks To Monetize Its Gold Reserves Amid Severe Cash Crunch
Kosachev recalled that US Congress recently passed a Law "On the Protection of Human Rights and Civil Society in Venezuela," which has been followed by sanctions and overt support for opposition forces accused of aiming to overthrow the Maduro government. Kosachev noted that "given all that has unfolded before our own eyes in Kiev over the past year and a half," the Russian Foreign Ministry's concerns over events "do not seem an exaggeration."
"These attempts to 'ignite' instability around the world from several ends at once, if one also recalls what is going on in the Middle East, cannot but cause the most serious concerns from any reasonable person," Kosachev concluded.
Kosachev's comments echoed those of Jesus Faria, Vice President of Venezuela's ruling United Socialist Party, who told Sputnik earlier this week that "the protest movements, the way we know them in Venezuela, are intended to burn the country down…This is the same tactic as we have seen in Ukraine, when the neo-fascist groups…toppled the legitimate government, setting the country on fire socially."
© AP Photo/ Ariana Cubillos
Latin American Countries Unite Behind Venezuela in Clash With US
On Thursday, Nicholas Maduro responded to the US decision to list Venezuela as a threat to its national security, demanding "via all global diplomatic channels, that President Obama rectify and repeal the immoral decree declaring Venezuela a threat to the United States." Supporting her Venezuelan counterpart, Argentina President Cristina Fernandez de Kirchner noted that it's "absolutely incredible…absurd and unjustified" for a global superpower like that United States to think that a country like Venezuela could pose a threat to its security.
Read more: http://sputniknews.com/latam/20150314/1019502193.html#ixzz3URT0Ax4Q

Latin American Countries Unite Behind Venezuela in Clash With US
Clearly infuriated by the Obama administration's decision to declare Venezuela an "extraordinary threat to national security," President Nicolás Maduro demanded that Washington "show evidence" of how Venezuela threatens the US.
"We demand, via all global diplomatic channels, that President Obama rectify and repeal the immoral decree declaring Venezuela a threat to the United States," Maduro said during a speech at an "anti-imperialist march" in the capital city of Caracas, where he nearly shouted out of anger.
Latin American leaders are largely lining up to support Maduro, saying the US overstepped its bounds and meddled in regional affairs it has no business being involved in.


US Declares Venezuela a National Threat, Prompting Argentinian Rebuke
"This is an unacceptable attack on Venezuela's sovereignty," said Ecuadorian officials, while Argentine president Cristina Fernández de Kirchner said it was ridiculous to think that Venezuela could pose a threat to such a superpower. "It's absolutely incredible to think that Venezuela is the problem. It's absurd and unjustified," she said.
Cuba called Washington's action as "arbitrary and aggressive," while the Bolivian government said Obama's executive order was "interventionist" and reminded them of a dictatorship.
Maduro went on to accuse the Obama administration of trying to overthrow the Venezuelan government, which he reiterated was "democratically elected" while the US is "an imperialist police state."


US Imposes Sanctions on Senior Venezuela Officials – White House
President Obama's executive order declaring Venezuela a threat also imposes sanctions on seven Venezuelan military and government officials, including freezing their US bank accounts and other assets in the United States.
Maduro has been in office since 2013, after the death of charismatic Hugo Chávez, a frequent Washington critic. The US argues that the Venezuelan government prosecutes opponents, curtails press freedoms and violates human rights — charges Maduro dismisses as a plot against him.
The Venezuelan president said he is considering traveling to Washington to challenge Obama over the White House's assertions. Maduro said his government is preparing an event in the US capital to refute the labeling.
"Maybe I'll appear in Washington, to show my face for my country and tell the government in Washington they are committing grave mistakes," he said.
The US State Department says it is not interested in toppling the Venezuelan government but rather in having it change its ways.
Read more: http://sputniknews.com/us/20150313/1019463839.html#ixzz3UIO7FMQ8
'Undemocratic, interventionist': Bolivia lashes out at Obama for Venezuela sanctions
Published time: March 13, 2015 10:01


Bolivia's Foreign Ministry has joined a chorus of condemnation over US sanctions on Venezuela. A statement called on the US to "abandon its interventionist practices," shortly after the rest of Latin America bonded in defense of Caracas.
Setting off the Latin outcry was US President Barack Obama's decision to label Venezuela a 'national security threat' in early March, something President Nicolas Maduro countered by saying that Obama had taken it upon himself to "defeat" and "control" the country.
La Paz is striking back at Washington in defense of Caracas, after Bolivian President Evo Morales earlier this week signaled his support for Maduro. In a Thursday document the Foreign Ministry expressed its "regret" at Obama's stance, saying "Bolivia rejects these interventionist actions of the US government to violate the sovereignty and self-determination of the Venezuelan people. These undemocratic actions of President Barack Obama threaten the peace and security of all countries in Latin America and the Caribbean.
Read moreMaduro: US trying to 'defeat' Venezuela govt with sanctions, we'll fight back
"Bolivia reiterates its full support for the legitimate government of brother Nicolas Maduro, a president democratically elected by his people, and pledge our solidarity to the Venezuelan people in this unfair and difficult time in which democracy is again trying to be sacrificed to serve foreign interests," the document also read.
Some of the loudest criticism in Latin America came from Cuba, which questioned Obama's decision-making wisdom. Calling the president's actions "arbitrary and aggressive," its Foreign Ministry also issued a statement.
"How is Venezuela a threat to the United States? Thousands of kilometers away, without strategic weapons and without the resources … to conspire against the US constitutional order; the [White House] declaration has little credibility," Cuban newspaper Granma cited the document as saying.
Similar outrage was heard from Ecuadorian President Rafael Correa, who took to Facebook to voice his objections, calling the US sanctions "a bad joke, which reminds us of the darkest hour of our America, when we received invasions and dictatorships imposed by imperialism."


Offering its "full support" to Maduro, Correa reiterated that such actions will not stand with Latin America "in the 21st century."
Meanwhile, Secretary-General of the Union of South American Nations (UNASUR) Ernesto Samper said this week that the body rejects "any attempt at internal or external interference that attempts to disrupt the democratic process in Venezuela."
The 12-nation bloc has agreed to hold a high-level meeting on March 14 in Quito, Ecuador, to discuss how to go about responding the new measures. The ad hoc meeting was announced urgently by Correa shortly after Obama's remarks on how Venezuela is a threat to the US. Like other Latin-American partners, Correa sees this as a move to isolate Caracas and finish the job that the opposition could not.
The nations are also part of the anti-imperialist ALBA (Bolivarian Alliance of the Peoples of Our America) group of Latin American and Caribbean nations, which earlier said that the move by Obama "constitutes an unprecedented aggression against that country and thus our region.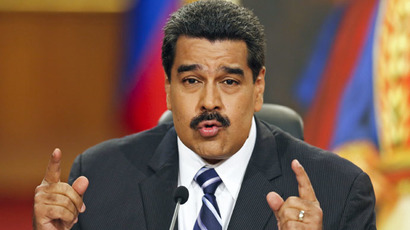 Read more: Maduro accuses Joe Biden of 'bloody coup' in Venezuela
source »
One of the sources of funds for the Cabal is Big Pharma. It also serves as the weapon of mass destruction via vaccine tainted with live virus it is suppose to protect us from, and the deadly chemicals use to treat our diseases that they caused through our GMO / pesticide contaminated food supply.
We can avoid using drugs, defeat any viral attack and scaremongering easily by knowing how to build our own comprehensive antiviral system. Find more about it here.
You can actually participate in the global efforts to cripple the Deep State organized criminal cabal's ability for genocide, while enjoying healthcare freedom at the same time, by boycotting Big Pharma for good.