The major developments in Eurasia in cooperation with its neighboring countries known as the New Silk Road may have given way the limelight to the regressive events in the West for the time being, but it has never abandoned the plan.

The blueprint has been shared to all stakeholders, and all parties are now working on the details of this multicultural cooperation that has proven to be the harbinger of peace thousands of years ago.
The West may have enjoyed a short success in arresting our attention to the project with those false flag operations, but that's all they can do really
The march towards progress will proceed undeterred once a few parasites are neutralized for good. There are at least three development banks established for this specific purpose.
Through the New Silk Road program, Eurasia will be united through trade and commerce one more time. The whole continental development will involve independent fiber optic internet, gas pipelines, new international seaports and airports that are integrated to one another, high-speed rail transit system spanning from Central China to Berlin, Moscow, the Far East, and if the US would cooperate, would transcend Alaska and the whole American continent.


The powerhouse economy of Germany has been at the forefront of the move to integrate the economy of Asia into that of Europe in the same ancient spirit of mutual benefit among participating countries, as outlined here by the Schiller Institute's Helga Zepp-LaRouche during a China conference in the middle of this year.
That's what's waiting in the wings after Russia and its Middle East allies are finished with the Anglo-American-Sunni terrorists in the region.
The New Silk Road project is separate from the Dragon Family – Keenan Group humanitarian programs which have an initial $1.7 trillion budget.
Just recently, China made another substantial effort to lure ASEAN countries to its fold. The Philippines, however, chose to be antagonistic against the Chinese peaceful dialogue-based efforts by towing the White House line and through its efforts of seeking Spratly resolution via UN sanctioned arbitration, to which China has ignored.
At present, the Malampaya gas extraction project, involving a gas field of around 3.7 trillion cubic feet, with Western companies, Shell and Exxon, in the Spratlys has put the country at a gross disadvantage, i.e. only receiving 10% of the income therefrom, with full cooperation of the Manila Oligarchy. This obviously is in deep contrast to the Chinese approach of "win-win" cooperation manifested by unilateral offer of investment in the region.
Any Philippine household is yet to experience cheaper gas for its own daily survival. This was the promise by the politicians when the gas exploration was still ongoing. Now, that they have been extracting for the last 15 years, nothing much has been said about it.
This is the real motivation of the persistent US naval incursions in West Philippine Sea / South China Sea, agitating China in the process.
Chinese credibility of pursuing mutual advantage can be gleaned from the African experience where Ethiopia experience an 11% economic growth for the first time. Other data are, of course, available throughout the web about Chinese massive investments elsewhere on the planet.
China announces $10 bn loans to Asian bloc
Chinese Premier Li Keqiang (5th L) poses for a group photo with ASEAN members' leaders during the 18th ASEAN-China summit in Kuala Lumpur, Malaysia, Nov. 21, 2015 [Xinhua]
China has announced infrastructure loans totaling $10 billion to Southeast Asian countries through the ASEAN bloc.
Chinese President Xi Jinping has been to the G20 meeting in Antalya, Turkey, the Asia-Pacific Economic Cooperation (APEC) gathering in the Philippines capital Manila before returning to Beijing.
Chinese Premier LI Keqiang on Friday joined other world leaders like US President Barack Obama and Indian Prime Minister Narendra Modi at the East Asian and Association of Southeast Asian Nations (ASEAN) summits in Kuala Lumpur in Malaysia.


Chinese Premier Li announced the $10 billion financing to boost regional connectivity, as he addressed a meeting between China and the ASEAN on Saturday.
Li called on both sides to "consolidate the basis for their cooperation by enhancing mutual trust, seeking common ground, setting aside differences and expanding their common interests".
He urged the two sides to speed up talks on upgrading the China-ASEAN free trade agreement (FTA) to further enhance trade facilitation in order to achieve 1 trillion dollars in bilateral trade by 2020. The China-ASEAN FTA, the largest-ever among developing countries, was signed in 2004.
The two sides should also work fast to conclude negotiations on the Regional Comprehensive Economic Partnership (RCEP) at an early date, Li said. The China-led RCEP is a 16-nation trade bloc which includes the ASEAN plus China, India, Japan, South Korea, Australia and New Zealand.
China remains ASEAN's biggest trading partner while ASEAN is China's third largest trading partner. Bilateral trade reached nearly $400 billion in the first 10 months of this year.
China hosted the first informal meeting of China-ASEAN defense ministers this year. Li said that his country stands ready to institutionalize the meeting with ASEAN at an early date.
Li's remarks came as China and some ASEAN countries are entangled in territory disputes on the South China Sea.
The 10-member bloc is also aiming towards greater economic integration.
China is stepping up engagement with ASEAN even as the US repeatedly asserts its seriousness about the Asia Pivot policy announced by President Obama in 2009.
…
TBP and Agencies
China India leaders meet in Malaysia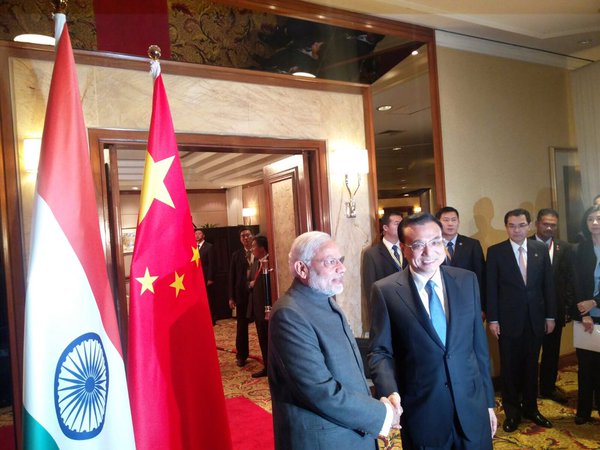 Indian Prime Minister Narendra Modi with Chinese counterpart Li Keqiang in Kuala Lumpur, Malaysia on 21 November 2015 [Image: PMO, India]
In a meeting with his Indian counterpart in Kuala Lumpur on Saturday, Chinese Premier Li Keqiang said that China and India — the world's two largest developing countries — "have more common interests than divergences".
…
"China and India boosting mutual trust and cooperation will not only achieve win-win results, but also contribute to the peace, development and prosperity of Asia and the world at large," Li said at the meeting with the Indian leader.
http://thebricspost.com/common-interests-outweigh-differences-li-on-india-china-ties/
China and Taiwan are also talking about peaceful resolution to the age old political conflict between the Chinese royalty and the Socialists in the mainland.
Let it be understood that the current alliances regarding the Middle East anti-ISIS efforts right now between Russia, China, Iran, Egypt and Syria have been laid out some time ago specifically to deal with the regressive Grand Chessboard principle of Zbigniew Brzezinski, who just told Obama to "retaliate if Russia doesn't stop attacking US assets".
https://www.youtube.com/watch?v=0hZiGechD2g
Brzezinski: Obama should retaliate if Russia doesn't stop attacking U.S. assets
By Jacob Heilbrunn


The United States should threaten to retaliate if Russia does not stop attacking U.S. assets in Syria, former national security adviser Zbigniew Brzezinski wrote in a Financial Times op-ed published Sunday, urging "strategic boldness," with American credibility in the Middle East and the region itself at stake.
Moscow's apparent decision to strike non-Islamic State targets and those of Syrian rebels backed by the Central Intelligence Agency "at best" reflects "Russian military incompetence," and worst, "evidence of a dangerous desire to highlight American political impotence," wrote Brzezinski, the national security adviser for former President Jimmy Carter and a strong supporter of current President Barack Obama.
http://www.politico.com/story/2015/10/zbigniew-brzezinski-financial-times-op-ed-obama-retaliate-russia-214438
It's pretty clear whose views are unsuited to the massive move towards peaceful coexistence among different cultures. One should not be accused of heresy if the likes of Brzezinski need to be gassed.
Why Europe can't afford to ignore China's New Silk Road

Officially first announced in 2013 by President Xi Jinping, China's ambitious "one belt, one road" initiative aims to improve connectivity between China, Asia and Europe. This year marks a milestone for relations between China and the European Union, as they celebrate 40 years of diplomatic relations.
The initiative merges both the land-based Silk Road (from China via Central Asia to Turkey and the EU) with the Maritime Route (via the Indian Ocean and Africa to Europe). Both routes were created with the intention of developing transportation infrastructure, facilitating economic development and increasing trade. This 21st-century initiative is not merely for China to romanticize its historical legacies: it carries major strategic economic and geopolitical calculations.
China seems to pursue three key objectives
A new impetus for its economy. China's GDP grew around 7.4% last year, the lowest since the 1990s, and a further slowdown seems inevitable. Given the massive overcapacity in the manufacturing sector, the vast and largely inefficient state-owned enterprises with falling return on equity, as well as the real estate bubble and increasing environmental pressures, China urgently needs to find new economic engines. One Belt, One Road focuses on infrastructure development and matches the appetite of Chinese state-owned enterprises with overcapacity.
The Silk Road will help to alleviate China's thirst for energy, with new gas pipelines in Central Asia and new deepwater harbours in South Asia to be constructed. These massive infrastructure projects will also accelerate the renminbi's internationalization and its emergence as an alternative reserve currency, a strategic economic objective.
Most importantly, the core of this initiative lies in its strategic and geopolitical importance. China seeks to build a cordon sanitaire of regional stability. Its leadership firmly believes economic prosperity is the only way to maintain peace in its fragile neighbourhood, from volatile Central Asia via a fragmented Pakistan and wartorn Afghanistan to the terror belt in the Middle East and North Africa. The Chinese government has resisted the idea of labelling the "belt and road" project as its own Marshall Plan, but the commonality of China's economic interests with the corridor nations and a sound infrastructure bond will be the best way to prevent regional conflicts. It's also a viable way to export China's model of development: the right to develop irrespective of political systems.
Strategically, the belt and road concept – as well as the establishment of the Asian Infrastructure Investment Bank (AIIB), the Silk Road Fund and other related initiatives – send out a clear signal: China is ready to take more of a role in regional and global governance. Over the past decades, China was an agenda-follower rather than agenda-setter. A key principle of its foreign policy has been a "peaceful rise with a low profile". Accordingly, China initially accepted and integrated into the existing system of global governance.
This phase is coming to an end. China's economic power and political weight are strong arguments for Beijing that its development must not continue to be subject to rules mainly decided by industrialized nations. Beijing intends to be more proactive in protecting national interests.
https://agenda.weforum.org/2015/11/europe-china-new-silk-road/
New Silk Road: Sustainable Global Economic Growth a Remedy for Terrorism?

20:16 23.11.2015
China's One Belt and One Road (OBOR) initiative, which envisages the deeper integration of Asia, Russia, Europe, the Middle East and Africa is gaining further international attention, according to Spanish researcher Augusto Soto, the founder of the Dialogue with China Project media platform.
"Following recent attacks in Paris, Turkey, Lebanon and Sinai together with an increase of terrorist activity in several countries included in or bordering OBOR's space, sophisticated technical, diplomatic and defense factors are bound to influence the initiative and its absolute significance," Soto remarks in his article for Strategic Culture Foundation.
The researcher stresses that the China-led initiative again came into focus during both the APEC summit in the Philippines and the G20 summit in Turkey.
According to Soto, Beijing is seeking to play a more active role in global affairs, insisting that the OBOR initiative will help the Eurasian region to ensure stability and security.
He quotes China's Vice Finance Minister, Zhu Guangyou, who said during the G20 summit in Antalya: "It will be of important economic and political significance for us to ensure the sustainable, balanced and strong economic growth, and also deliver on the UN pledge that by the year 2030 poverty should be eradicated worldwide, because we believe this will eliminate the soil that breeds terrorism."
…
Recession, economic imbalance and income inequality, let alone Europe's ongoing refugee crisis, may create new difficulties, the researcher warns.
However, the China-led project is likely to provide the nations with an opportunity to bolster development and overcome longstanding recession.
"In spite of some reasonable but mainly unfair criticism of the initiative, each of the EU leaders visiting China over the last weeks has made explicit commitments to actively participate in OBOR. Not bad, taking into account that even growing clearly at less than 7% a year, China is likely to become the largest overseas investor by 2020. Then its global offshore assets are expected to reach $20 trillion," Soto underscores.
…
http://sputniknews.com/politics/20151123/1030612387/china-new-silk-road-global-economic-growth-remedy-for-terrorism.html
You can actually participate in the global efforts to cripple the Deep State organized criminal cabal's ability for genocide, while enjoying healthcare freedom at the same time, by boycotting Big Pharma for good.