In an effort to appease his Nazionist puppet masters, Mr. Erdogan provoked Russia into war with NATO using the flimsiest of reasons.

First, it supported its claim of Russian border and airspace violation with highly questionable data, i.e. that the downed Su-24 penetrated as much as 1.15 miles of its national airspace for 17 seconds.


Beyond the above statement, Turkey offered no other document supporting its claim of Russian intrusion..
Calculating for speed = 1.15 miles/17 secs = 0.067 miles/sec, or 243.5 miles per hour
A Sukhoi-24 flying at the speed of a low-end sports car means it is nearly stalling, or is already stalling!
Most politicians don't do math. They just talk and talk a lot. They are willing to go to war for just a 17 second territorial intrusion, assuming that it's true. But it's highly questionable considering that the plane even crash-landed right inside Syria!
The real motivation is simple: Turkey has invested too much on ISIS by providing logistical lifeline since it started wreaking havoc across Syria and Iraq, for possible oil and gas extractions.
Erdogan even resorted to bribing Merkel with $3 billion for the establishment of "safe zones", 35 km deep inside Syria.
Why did Putin consider Turkey's action as backstabbing?
Both Russia and Turkey have signed a contract for the construction of a gas pipeline dubbed as Turkish Stream. Putin thought they were on the same page;
Erdogan, in 2012, said that "a brief airspace intrusion can't be a pretext for war." Putin values word of honor, he's expecting his "partners" to reciprocate.
All along, Putin assumed that they were allies with Turkey. Turkey, on the other hand, has an unstable government. Erdogan even had to resort to false flag terror right before the recent Turkey election.
Turkey Between Elections – Harvard Political Review
By Cansu Colakoglu
On June 7, 2015, Turkey held general elections in which the governing Justice and Development Party, commonly known as the AKP, lost its outright majority in Parliament for the first time in 13 years. The electoral system in Turkey allocates 550 total seats. But the country also has the world's highest election threshold, barring from the legislature any party that doesn't register at least 10 percent of the popular vote.
This unusually high election threshold is a legacy of a 1980 military coup and the consequent 1982 constitution. Kenan Evren, the general that orchestrated the takeover, is believed to have implemented this threshold to avoid political instability and inertia in the parliament. However, although this regulation was meant to promote efficiency in governance and lawmaking, it ended up leaving out minority voices—especially the Kurdish population—for decades after its implementation.
The Kurdish minority's recent success in finally crossing the election threshold has disrupted Turkish politics dominated by the AKP and resulted in the escalation of tensions between the AKP and its opposition.
http://harvardpolitics.com/world/turkey-elections/
Erdogan seen with little choice but to share power after Turkish vote

By Orhan Coskun and Nick Tattersall
ANKARA/ISTANBUL President Tayyip Erdogan's tactics for Turkey's second general election in five months might have changed, but the outcome looks likely to be the same: for the first time in its history, his ruling AK Party may have to share power.
Opinion polls suggest the Islamist-rooted AKP, which had dominated Turkish politics for 13 years until losing its parliament majority in June, will again fail to secure enough votes to govern alone at a Nov. 1 election.
The AKP was unable to find a junior coalition partner in more than a month of talks after the first vote, prompting Erdogan to call a snap re-run in the hope it would finally deliver the result he wants – a return to single-party AK rule.
In a monolithic organization still dominated by Erdogan, its founder, the official line is that support is picking up. The AKP is on track, Prime Minister Ahmet Davutoglu said in an interview last week, to win at least 44-45 percent, up from 40.9 percent in June and potentially enough to avoid a coalition.
"If there is a plan 'A', I don't want to talk about plan 'B'," Davutoglu told Reuters in Istanbul, when asked whether he was ready to share power with the main opposition Republican People's Party (CHP).
"Their only hope might be a coalition, but our aim and objective is to be a one-party government," he said.
Privately, senior officials in both the AKP and the secularist CHP nonetheless say they are preparing for power-sharing talks, however much Erdogan might dislike the idea.
"It's on a knife-edge … If there is need for a coalition, we are in a closer relationship with the CHP," said one senior ruling party source, adding the other possible option, the nationalist MHP, appeared dead set against any deal.
http://www.reuters.com/article/2015/10/21/us-turkey-election-idUSKCN0SF2CL20151021
Back in August, the Islamic State criticized the Erdogan government for being a traitor to their noble cause.
ISIS Calls Erdogan 'Traitor,' Urges Conquest of Istanbul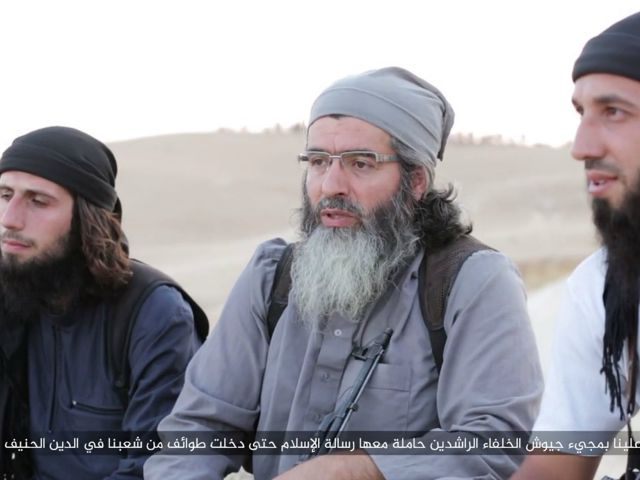 by John Hayward19 Aug 201510
The Islamic State (ISIS/ISIL/IS) has released its first Turkish-language video, a fiery rant by an unidentified graybeard surrounded by the usual armed thugs in which the Turkish people are urged to reject democracy, overthrow the government of President Recep Tayyip Erdogan, fight the United States, and do everything they can to assist the Islamic State and its "Caliph," Abu Bakr al-Baghdadi.
http://www.breitbart.com/national-security/2015/08/19/isis-calls-erdogan-traitor-urges-conquest-of-istanbul/
It seems the Erdogan government has given in to the pressure of the richest terror group to date by shooting down Russian Su-24. Its connection tot he Islamic State has been firmly established, and the United States knows it.
"A trawl through Sayyaf's compound uncovered hard drives that detailed connections between senior Isis figures and some Turkish officials. Missives were sent to Washington and London warning that the discovery had "urgent policy implications"."
http://www.theguardian.com/world/2015/nov/24/vladimir-putin-turkey-isis-terrorists-warplane-analysis
It's one thing when one shoots down a warplane of one's enemy outside of one's airspace, i.e. the plane itself crashed and burned inside Syria. It's another thing when one murders the pilot on parachute. Still, it's another thing when one shoots down the helicopter looking for the pilots.
All three are considered not only as very strong provocations but are actual war crimes. And they could not deny all of these considering that they already acknowledged such actions.
For Turkey to do this should have the permission of the United States. The NATO leadership, on the other hand, is thinking twice about confronting the Russians.
So, in the next few days, we can expect that the Erdogan government will only receive as much as lip service from Western politicians.
The Russians, however, promised grave consequences for the unwarranted and unprovoked Turkish attack.
Russia deploys missile cruiser off Syria coast, ordered to destroy any target posing danger
Moscow plans to suspend military cooperation with Ankara after the downing of a Russian bomber by Turkish air forces, Russian General Staff representatives said on Tuesday. Further measures to beef up Russian air base security in Syria will also be taken.
Three steps as announced by top brass:
Each and every strike groups' operation is to be carried out under the guise of fighter jets
Air defense to be boosted with the deployment of Moskva guided missile cruiser off Latakia coast with an aim to destroy any target that may pose danger
Military contacts with Turkey to be suspended
Follow LIVE UPDATES on Russian warplane shot down at Syria-Turkey border
Sergey Rudskoy, a top official with the Russian General Staff, condemned the attack on the Russian bomber in Syrian airspace by a Turkish fighter jet as "a severe violation of international law". He stressed that the Su-24 was downed over the Syrian territory. The crash site was four kilometers away from the Turkish border, he said.

Rudskoy said the Russian warplane did not violate Turkish airspace. Additionally, according to the Hmeymim airfield radar, it was the Turkish fighter jet that actually entered Syrian airspace as it attacked the Russian bomber.
The Turkish fighter jet made no attempts to contact Russian pilots before attacking the bomber, Rudskoy added.
"We assume the strike was carried out with a close range missile with an infra-red seeker," Rudskoy said. "The Turkish jet made no attempts to communicate or establish visual contact with our crew that our equipment would have registered. The Su-24 was hit by a missile over Syria's territory."
Russia now plans to implement new measures aimed at strengthening the security of the country's air base in Syria and in particular to bolster air defense.
Russian guided missile cruiser Moskva, equipped with the 'Fort' air defense system, similar to the S-300, will be deployed off Latakia province's coast.
"We warn that every target posing a potential threat will be destroyed," lieutenant general Sergey Rudskoy said during the briefing.
The Moskva ('Moscow') missile cruise is a flagship vessel of the Russian Black Sea fleet and is one of the fleet's two biggest ships. The cruiser was stationed in Sevastopol but left in summer 2015 after being deployed to the Mediterranean Sea where it joined Russia's standing naval force in the Mediterranean.
Since September 30, the Moskva cruiser acts as a covering force for the Russian air forces in Syria while deployed in the eastern Mediterranean.
"All military contacts with Turkey will be suspended," Rudskoy added.
https://www.rt.com/news/323329-russia-suspend-military-turkey/
Getting Tough on Turkey: Kremlin Vows to Punish Ankara for Downed Jet

13:32 25.11.2015
Russian-Turkish business and military projects worth tens of billions of dollars may be frozen due to Turkey's downing of a Russian Su-24 on Tuesday, the Russian newspaper Kommersant reported, referring to high-ranking government sources.
According to the sources, Moscow will slap "tough" measures against Ankara, in a move that will have a serious impact on Russian-Turkish relations in many fields.
In particular, the Russian energy giant Gazprom will decide on further implementing the 11.4 billion euro TurkStream gas pipeline project. According to Reuters, Russia is currently Turkey's principal supplier of natural gas; Ankara buys 28-30 billion cubic meters (bcm) of the 50 bcm it consumes annually from Russia.
In addition, the Russian State Atomic Energy Corporation Rosatom may freeze the 22-billion-dollar deal to construct  Turkey's first nuclear power plant, the Akkuyu.
On Tuesday, the Russian Federal Tourism Agency Rosturism  recommended that the country's tour operators suspend selling tickets to Turkey, citing an ever-increasing terrorist threat. Earlier that day, Russian Foreign Minister Sergei Lavrov advised the country's citizens against visiting Turkey.According to Reuters, "Russia is the source of the second-largest number of [the country's] tourist arrivals after Germany."
http://sputniknews.com/world/20151125/1030721781/russia-turkey-relations-jet.html
You can actually participate in the global efforts to cripple the Deep State organized criminal cabal's ability for genocide, while enjoying healthcare freedom at the same time, by boycotting Big Pharma for good.