We've not done enough.
The genocide has gone unabated in Gaza. The Nazionists are showing what they are really capable of, but the world has not.
Protests, press conferences — they're nothing compared to the massive dense inert metal explosives [DIME] and cancer causing phosphorous bombs unleashed to the logistically inferior Palestinians in Gaza.

ISRAEL USING A VARIETY OF WEAPONS IN GAZA ASSAULT
Israel has used cancer-inducing bombs like white phosphorous and DIME bombs several times in Gaza. In need of defending themselves, Gazans have developed some weapons that are incomparable to Israel's high-tech weaponry
Mehmet Kemal Firik
Updated : 22.07.2014 12:57:52
Published : 21.07.2014 23:42:13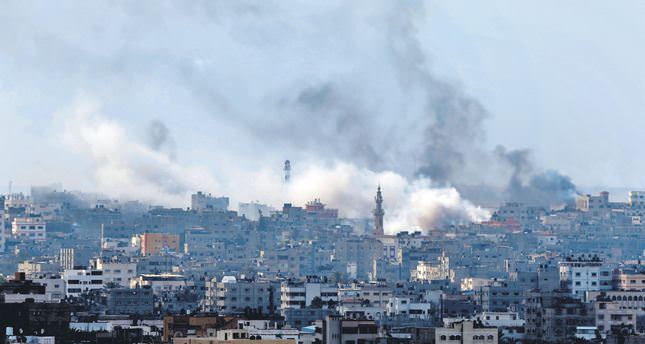 ISTANBUL – Almost all of the targets, Israel hit in Gaza were accommodating civilians. The whole world is aware of the magnitude of Israel's arms inventory and also it is known that Israel has nuclear bombs. Israel, which has many fighter jets, nuclear bombs and an advanced air defense system, has never avoided using cancer-inducing bombs that are prohibited to use like white phosphorous bombs. Former head of the Israeli parliament, Yaakov Ederi, confirmed that the Israeli army used white phosphorous bombs against Lebanon in 2006.
The status of the use of white phosphorous in warfare is debatable. Israel claims that use of white phosphorous is allowed, asserting that it cannot be deemed a chemical weapon. In 2010, 37 countries signed an agreement to ban barrel bombs. Even though they might not be banned completely, they are regarded as un-ethical.
During recent attacks the Palestinian Al Ray Media Agency and many other media outlets as well as activists stated that Israel used dense inert metal explosives (DIME), which are explosive devices developed to minimize damage to things that are incidental to the intended target. The bomb's effects are relatively small but with a significantly damaging blast radius, and are believed by medical experts to have severe biological effects on those hit by the bomb's micro-shrapnel. DIME has been developed by the U.S. in 2006 has been tested on Gazans, according to the website electronicintifada.net.
continue reading »
EXPLOSIONS AND CRIES ARE ALL THAT'S LEFT IN GAZA STRIP
Palestinian hopes for a better future dim with every passing day as more children die from attacks by Israel, which has targeted the region's hospitals, schools and other essential buildings
Daily Sabah
Updated : 22.07.2014 11:24:45
Published : 21.07.2014 23:40:00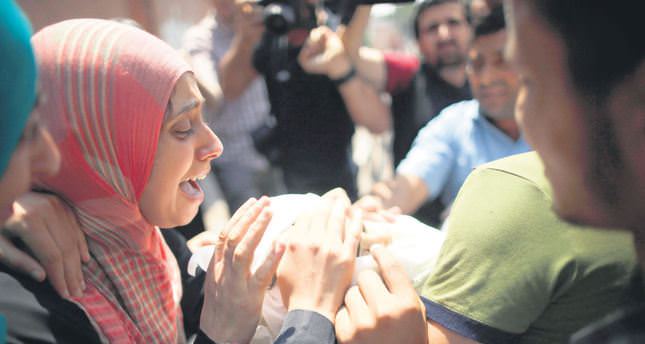 ISTANBUL – Entering the second week of Israeli strikes on Gaza, the death toll has now passed 500 and is likely to increase as Israel continues its attacks. While the U.S. and Israel are pushing Hamas to accept the cease-fire proposal made by Egypt, Hamas strictly opposes the idea and is seeking alternative mediators, possibly Turkey and Qatar. Yet, escalating tensions in the region and the ongoing Israeli military campaign has not offered an opportunity for the sides to evaluate the proposals. Hamas claims that Egypt's proposal is meant to undermine its presence in Gaza and does not meet its conditions, including the end of the Israeli blockade. Israel accuses Hamas of opposing the ceasefire and being responsible for Palestinian deaths. While the establishment of a cease-fire is worked out, attacks are still killing civilians, often by targeting people's homes. The Israeli military alleges that Hamas's armed wing, the al-Qassam Brigades, conceals weapons under civilian buildings.

Among the buildings which have been targeted are homes, hospitals, schools and mosques. However, after such attacks, Israel does not issue a statement on the number of weapons destroyed. Palestinians have described Sunday as '"bloody Sunday" following Israel's attacks on the Gaza neighborhood of Shujaya.
The attacks killed dozens of Palestinians, demolished hundreds of homes and displaced thousands of people. Anadolu Agency's correspondent in Gaza Metin Yüksel Kaya reported that "the streets of Shujaya neighborhood in Gaza, the main target of Israeli air strikes, are strewn with dead bodies. Half of the area is burned down. The streets are full of dead bodies. It is just like Syria. Everywhere is stained with blood. I have seen some ambulances targeted by Israeli airstrikes. It seems most of the people were not able to escape their homes and have lost their lives inside. There are some on the streets who were seemingly running from the bombs. I have seen many children and women's bodies under stairs killed when hiding from the bombardment."
Thousands of Palestinians living in Palestinian cities like Ramallah, Hebron and Erico have protested Israeli strikes. People often take to the streets at night, chant slogans against Israel and demand that the Palestinian Authority stand up against Israeli aggression. Also hundreds of Palestinians, along with some Israelis, have organized demonstrations in Tel Aviv and Jerusalem. Thousands of protests were also held across the world. In Chicago, as many as 10,000 people gathered to denounce Israel's latest campaign in the Gaza Strip.
Due to an increasing number of casualties, anger among Palestinians has increased. Yet, some Israeli media outlets and intellectuals blame not only Hamas but also Palestinians due to the violence. A right-wing Israeli academic, Mordechai Keidar, yesterday during a radio program, said that "the only thing that could deter a suicide bomber knows that if caught, his sister or his mother would be raped."
This rhetoric is being accompanied by an intensifying campaign on the ground. But the Israeli army has not escaped unscathed. According to Hamas sources nearly 30 Israeli soldiers have been killed since fighting broke out and one soldier has been kidnapped. The Israeli Defense Forces have refuted both of the claims but confirmed that 13 soldiers have been killed. Although Israel strictly refuses the claim of the abduction, the al-Qassam Brigades have released the passport of the soldier, whose name is allegedly Shaul Aaron.
Meanwhile Lebanon-based Hezbollah leader Hassan Nasrallah offered his support to Hamas. The organization said Nasrallah spoke with Hamas leader Khaled Meshaal over telephone late Sunday. Nasrallah said Hezbollah is ready to help Parlestinians in Gaza. Yet, in Syria, Hezbollah's battle with opposition groups, including the moderate Free Syrian Army (FSA), has damaged its reputation and Hamas has previously avoided siding with the Shiite group so as not to harm its reputation among Sunnis.
Please support us by downloading our Towards Healthcare Emancipation – Premium Edition, a fully illustrated eBook about how you can implement a low cost but extensive and decisively effective healthcare system in the comfort of your own home.
With this eBook you can easily defeat cancer, AIDS and all other parasitic diseases for good. Find out more about it here. The proceeds from this book will be used to fund our next project, Towards Energy Emancipation. The aim is to make the subject of free energy more understandable for the layman so that anybody could replicate and install his own power plant and be completely living off-grid.
If you haven't done so, please like our FB page to encourage others to learn more about our work. Thank you very much for your valuable support.
You can actually participate in the global efforts to cripple the Deep State organized criminal cabal's ability for genocide, while enjoying healthcare freedom at the same time, by boycotting Big Pharma for good.