If there's one character that we can admire of the Cabal, it's the tenacity of purpose. The will to accomplish a goal with full resolve has been and still is a defining trait of the Cabalists.
The only problem is: their primary objective for all the things they do is to annihilate all of us. After all, they are the Chosen People.

Yes, there is no democracy for the Almighty God. The decision was made long ago. We do not deserve to live a minute longer. From Israel's standpoint, even for the flimsiest of reason, fabricated or not, we can all be eliminated physically, legitimately, and morally.
That's Israel's norm.
The Times Of Israel site Before and After…


h/t @PrisonPlanet
Thanks to The Way-Back Machine, here is the full article…
When Genocide Is Permissible (authored by Yochanan Gordon)

Judging by the numbers of casualties on both sides in this almost one-month old war one would be led to the conclusion that Israel has resorted to disproportionate means in fighting a far less- capable enemy. That is as far as what meets the eye. But, it's now obvious that the US and the UN are completely out of touch with the nature of this foe and are therefore not qualified to dictate or enforce the rules of this war – because when it comes to terror there is much more than meets the eye.
I wasn't aware of this, but it seems that the nature of warfare has undergone a major shift over the years. Where wars were usually waged to defeat the opposing side, today it seems – and judging by the number of foul calls it would indicate – that today's wars are fought to a draw. I mean, whoever heard of a timeout in war? An NBA Basketball game allows six timeouts for each team during the course of a game, but last I checked this is a war! We are at war with an enemy whose charter calls for the annihilation of our people. Nothing, then, can be considered disproportionate when we are fighting for our very right to live.
The sad reality is that Israel gets it, but its hands are being tied by world leaders who over the past six years have insisted they are such good friends with the Jewish state, that they know more regarding its interests than even they do. But there's going to have to come a time where Israel feels threatened enough where it has no other choice but to defy international warnings – because this is life or death.
Most of the reports coming from Gazan officials and leaders since the start of this operation have been either largely exaggerated or patently false. The truth is, it's not their fault, falsehood and deceit is part of the very fabric of who they are and that will never change. Still however, despite their propensity to lie, when your enemy tells you that they are bent on your destruction you believe them. Similarly, when Khaled Meshal declares that no physical damage to Gaza will dampen their morale or weaken their resolve – they have to be believed. Our sage Gedalia the son of Achikam was given intelligence that Yishmael Ben Nesanyah was plotting to kill him. However, in his piety or rather naiveté Gedalia dismissed the report as a random act of gossip and paid no attention to it. To this day, the day following Rosh Hashana is commemorated as a fast day in the memory of Gedalia who was killed in cold blood on the second day of Rosh Hashana during the meal. They say the definition of insanity is repeating the same mistakes over and over. History is there to teach us lessons and the lesson here is that when your enemy swears to destroy you – you take him seriously.
Hamas has stated forthrightly that it idealizes death as much as Israel celebrates life. What other way then is there to deal with an enemy of this nature other than obliterate them completely?
News anchors such as those from CNN, BBC and Al-Jazeera have not missed an opportunity to point out the majority of innocent civilians who have lost their lives as a result of this war. But anyone who lives with rocket launchers installed or terror tunnels burrowed in or around the vicinity of their home cannot be considered an innocent civilian. If you'll counter, that Hamas has been seen abusing civilians who have attempted to leave their homes in response to Israeli warnings to leave – well then, your beginning to come to terms with the nature of this enemy which should automatically cause the rules of standard warfare to be suspended.
Everyone agrees that Israel has the right to defend itself as well as the right to exercise that right. Secretary General Ban Ki Moon has declared it, Obama and Kerry have clearly stated that no one could be expected to sit idle as thousands of rockets rain down on the heads of its citizens, placing them in clear and present danger. It seems then that the only point of contention is regarding the measure of punishment meted out in this situation.
I will conclude with a question for all the humanitarians out there. Prime Minister Benjamin Netanyahu clearly stated at the outset of this incursion that his objective is to restore a sustainable quiet for the citizens of Israel. We have already established that it is the responsibility of every government to ensure the safety and security of its people. If political leaders and military experts determine that the only way to achieve its goal of sustaining quiet is through genocide is it then permissible to achieve those responsible goals?
*  *  *
The author just apologized…
I wish to express deep regret and beg forgiveness for an article I authored which was posted on 5TJT.com, Times of Israel and was tweeted and shared the world over.
I never intended to call to harm any people although my words may have conveyed that message.
With that said I pray and hope for a quick peaceful end to the hostilities and that all people learn to coexist with each other in creating a better world for us all.
Yochanan Gordon
Israelis gather on hillsides to watch and cheer as military drops bombs on Gaza
People drink, snack and pose for selfies against a background of explosions as Palestinian death toll mounts in ongoing offensive.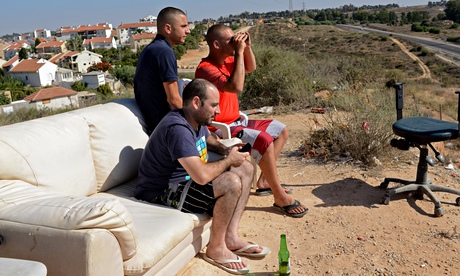 As the sun begins to sink over the Mediterranean, groups of Israelis gather each evening on hilltops close to the
Gaza
border to cheer, whoop and whistle as bombs rain down on people in a hellish warzone a few miles away.
Old sofas, garden chairs, battered car seats and upturned crates provide seating for the spectators. On one hilltop, a swing has been attached to the branches of a pine tree, allowing its occupant to sway gently in the breeze. Some bring bottles of beer or soft drinks and snacks.
On Saturday, a group of men huddle around a shisha pipe. Nearly all hold up smartphones to record the explosions or to pose grinning, perhaps with thumbs up, for selfies against a backdrop of black smoke.
Despite reports that millions of Israelis are living in terror of
Hamas
rockets, they don't deter these hilltop war watchers whose proximity to Gaza puts them within range of the most rudimentary missiles. Some bring their children.
In the border town of Sderot, which has been struck by countless missiles from the Gaza Strip in recent years, one family gathers on a top-floor balcony, draped with an Israeli flag and banner of the army's legendary Golani Brigade. A house with a war view may even command a premium price these days.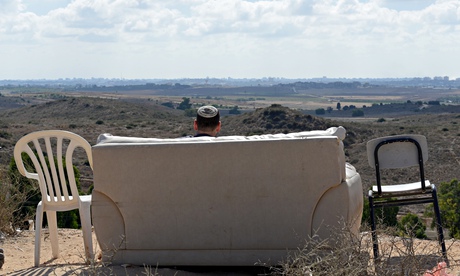 An atmosphere of anticipatory excitement grows as dusk falls, in the expectation that Hamas militants will increase rocket fire after breaking their Ramadan fast, and the Israeli military will respond with force.
The thud of shellfire, flash of an explosion and pall of smoke are greeted with exclamations of approval. "What a beauty," says one appreciative spectator.
Shimrit Peretz, 19, has come with her off-duty soldier boyfriend, Raz Sason, whose army-issue assault rifle is slung across his shoulders.
"We come to look at the bombing," Peretz says, adding that this is their fourth visit to the hilltop. They plan to stay several hours: "It's interesting." The pair have brought a backpack filled with bottles of water and bags of crisps.
Peretz says that she doesn't worry about the Palestinian civilians caught in the bombing; Sason disagrees. Despite his concern for the innocents caught in the assault, the young conscript soldier wishes he was with his comrades across the border in Gaza. "I'd like to be going in, to help my country and help the soldiers inside," he says.
Given the dramatic views, media crews are coming to the area to cover the fighting. On a nearby hilltop, an ugly scene develops as a group of Israeli men threaten a photographer, accusing him of being a "leftist". We are warned against asking for interviews, as another cheer goes up.
source
»
Please support us by downloading our Towards Healthcare Emancipation – Premium Edition, a fully illustrated eBook about how you can implement a low cost but extensive and decisively effective healthcare system in the comfort of your own home.
With this eBook you can easily defeat cancer, AIDS and all other parasitic diseases for good. Find out more about it here. The proceeds from this book will be used to fund our next project, Towards Energy Emancipation. The aim is to make the subject of free energy more understandable for the layman so that anybody could replicate and install his own power plant and be completely living off-grid.
If you haven't done so, please like our FB page to encourage others to learn more about our work. Thank you very much for your valuable support.
You can actually participate in the global efforts to cripple the Deep State organized criminal cabal's ability for genocide, while enjoying healthcare freedom at the same time, by boycotting Big Pharma for good.