We can continue to doubt China's real intention, but we must appreciate what she had done so far, and also try to look back at its history. It never tried to conquer other people but  only did to unify its own.
A review from the Opening Ceremony of the last Beijing Olympics 2008 is a message one of unity for "We Are Family, You and Me".
That was the invitation, and probably is still…

China unveils anti-drone laser weapon able to shoot down 'small aircraft' within 5 seconds
Published time: November 03, 2014 11:46
China has developed and successfully tested a highly accurate laser defense system against light drones. The homemade machine boasts a two-kilometer range and can down "various small aircraft" within five seconds of locating its target.
Boasting high speed, great precision and low noise, the system is aimed at destroying unmanned, small-scale drones flying under an altitude of 500 meters and at speeds below 50 meters per second, the official Xinhua news agency reported, citing a statement by one of the developers, the China Academy of Engineering Physics (CAEP).
A recent test saw the machine successfully bring down over 30 drones – a 100-percent success rate, according to the statement. The laser system is expected to play a key role in ensuring security during major events in urban areas.
"Intercepting such drones is usually the work of snipers and helicopters, but their success rate is not as high and mistakes with accuracy can result in unwanted damage," explained Yi Jinsong, a manager with China Jiuyuan Hi-Tech Equipment Corp.
Yi told Xinhua that small-scale, unmanned drones are relatively cheap and easy to use, which makes them a lucrative choice for terrorists. Concerns have also been raised recently over drones involved in unlicensed mapping activities, and the negative effect this could have on both military and civil aerial activities.
The academy is currently working on developing similar laser security systems with greater power and range, the Chinese news agency reported.
The drone industry has been booming in recent years, with the challenge to build small, hard-to-track drones that are difficult shoot down.
READ MORE: Unjammable pocket-size drone to descend on US Air Force (VIDEO)
The US military is to get a new drone, small enough to fit into a uniform pocket, weighing a mere 80 grams. The so-called Extreme Access Pocket Flyer can fly for two hours, transmitting HD-quality video the whole time, without resorting to Wi-Fi.
According to a report by the independent, nonprofit, public policy institute, Stimson, the US has the "world's largest and most sophisticated fleet of weaponized UAVs," though America is "not likely to remain the world leader in the development of innovative UAV technologies."
US military forces had at least 678 drones in service in 2012, according to a study by the International Institute for Strategic Studies, as reported by the Guardian.
source »
China to send $81.4 mn aid to Afghanistan this year
October 31, 2014, 1:09 pm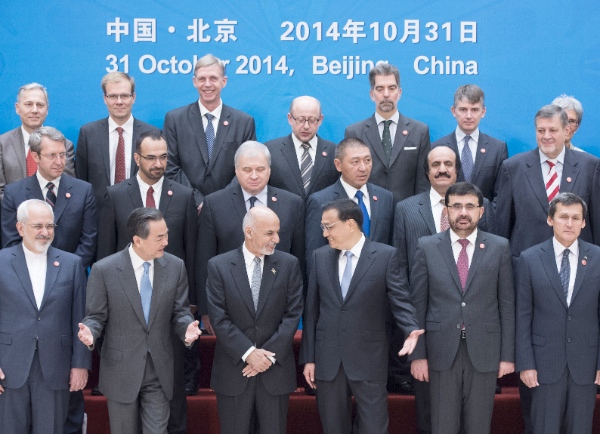 China on Friday announced it would provide financial assistance of 500 million yuan ($81.43 million) to Afghanistan this year as the US-led foreign troops begin to pull out.
China will provide funds amounting to 1.5 billion yuan ($244 million) over the next three years for training programs in the war-torn country, said Chinese Premier Li Keqiang at a global conference on Afghanistan held in Beijing on Friday.
"Firm support for Afghanistan's peaceful reconstruction should be concrete action instead of verbal commitment," Li said at the "Istanbul Process on Afghanistan".
Inaugurated in 2011, the Istanbul Process is the only Afghanistan-centered cooperation mechanism led by regional countries.
Afghanistan's President Ashraf Ghani met President Xi Jinping and other Chinese leaders in Beijing on his first visit abroad since his September inauguration.
"That you have made a visit to China when not even one full month into your presidency, making China your first visit abroad, fully embodies the high degree of emphasis you put on China-Afghanistan relations. I am willing to work with you on a new era of cooperation in China-Afghanistan relations and take development to a new depth and breadth," Xi told Ghani on Tuesday.
The world's second largest economy has said it would step up bilateral cooperation in infrastructure construction, agriculture, water conservation and mineral resources with the aid-dependent country.
The international community should not interfere with Kabul's internal affairs and support Afghanistan's efforts to realize security and stability, Li said.
Chinese companies have made major investments in Afghanistan ranging from a $3 billion investment at a copper mine at Mes Aynak to China National Petroleum Corp's project to develop Afghanistan's Amu Darya basin.
source »
China Pledges $327 Million in Aid to Afghanistan
Aid Comes as U.S. and Allies Draw Down Forces in Afghanistan
China has pledged two billion yuan ($327 million) in aid to Afghanistan, which is seeking new sources of foreign help amid a drawdown of U.S. troops and increasing worries about regional instability.
The offer of aid through 2017 came after China's President Xi Jinping and newly elected Afghan President Ashraf Ghani met in Beijing on Tuesday, according to a joint declaration published Wednesday by China's foreign ministry. Beijing and Kabul also agreed to step up intelligence sharing to fight drug trafficking and address other cross-border issues.
Afghanistan's president wants to build closer ties to regional powers such as China as the U.S. and its allies draw down forces. The coalition's combat mission ends on Dec. 31. The U.S. Special Inspector for Afghanistan Reconstruction says Washington has committed more than $100 billion to state-building and development projects in Afghanistan since the collapse of the Taliban regime in late 2001.
China has interests in Afghan peace, as it fears instability there could spread more broadly across the region. China and Afghanistan share a narrow, mountainous border.
China's foreign ministry quoted Mr. Xi as saying that China was willing to support Afghanistan's new government, and would help with personnel training as well as developing agriculture, hydroelectricity and infrastructure. The ministry didn't provide specifics. Chinese development work in Afghanistan has previously been limited by security concerns.
Mr. Ghani's four-day visit to China is his first working trip abroad since taking office at the end of September. The Afghan president recently visited Saudi Arabia to perform umrah, an Islamic pilgrimage to the holy city of Mecca, as part of a campaign promise.
Until recently, Beijing's relationship with Afghanistan has focused largely on minerals projects such as the Mes Aynak copper mine, a site outside Kabul that Chinese companies have pledged to develop. But Chinese officials in recent discussions have raised concerns about terrorism, particularly in preventing militant Islamist groups that operate in China from finding a haven in Afghanistan, a statement from the Afghan presidential palace said.
China faces ethnic and religious strife in its far western Xinjiang region. Ethnic Uighurs, a Turkish-speaking Chinese minority, have carried out increasingly deadly attacks on civilian and government targets in Xinjiang and elsewhere in the country. Beijing often describes assailants as religious extremists with ties to international terror groups, a claim disputed by overseas Uighur activists.
On Friday in Beijing, Mr. Ghani is expected to take part in a ministerial meeting of the Heart of Asia-Istanbul Process, a regional forum for countries to discuss Afghanistan-related issues. Said Reza Kazemi, a Ph.D. student who has studied the Heart of Asia-Istanbul Process, said China was presenting itself as a stronger regional player.
"China, if not presenting itself as in a leadership position, is playing an active role in forging closer ties with Afghanistan, at least in the mining sector," he said. "It is also interested in an Afghanistan that at least has a running state. On the other hand, the new Afghan president has stated time and again that the regional economy is shifting toward China, and that Afghanistan should be able to benefit from this by deepening its relationship with China."
Beijing's promise of aid comes as the new Afghan government struggles with a revenue shortfall. Mr. Ghani took office after a monthslong standoff over the country's disputed runoff vote led to the formation of a unity government with his election rival. The country's finance ministry has said the political uncertainty, coupled with the departure of foreign combat troops, has deterred investment and sent revenue collections plummeting.
International officials say the Heart of Asia-Istanbul Process meeting wasn't conceived as a forum for pledging new funds for Afghanistan. In earlier conferences in Tokyo and Chicago, donor nations have offered a total of around $8 billion a year to fund the operations of the Afghan government and pay the salaries of its army and police.
The Afghan government has committed to contributing around $500 million a year to cover a portion of the cost of Afghan security forces. That is roughly the size of the shortfall that Afghanistan faces in its revenue collection, international officials say.
"It's a huge sum for a country that has domestic revenue of around $2 billion a year," a Western official said. "They need to get the economy going."
The Afghan finance ministry didn't immediately respond to a request for comment on the country's current fiscal gap.
Write to Brian Spegele at [email protected] and Nathan Hodge at [email protected]
source »
Would you like to know how you can defeat Ebola and the Depopulation Agenda?
Defeating any viral attack and scaremongering is easy once you know the ultimate secret they've been keeping. Find out more about it here.
You can actually participate in the global efforts to cripple the Deep State organized criminal cabal's ability for genocide, while enjoying healthcare freedom at the same time, by boycotting Big Pharma for good.