The BRICS agenda of progressive cooperation between its 188 member countries is expected to dominate the APEC meeting this week. Already, Russia and China have agreed to formulate a unified stand on issues which could affect the planned New Silk Road that will cover the perimeter countries of both superpowers.
BRICS progressive global intercourse is a far cry to the genocidal character of the West.

Xi-Putin to assert united front at APEC
November 7, 2014, 8:34 am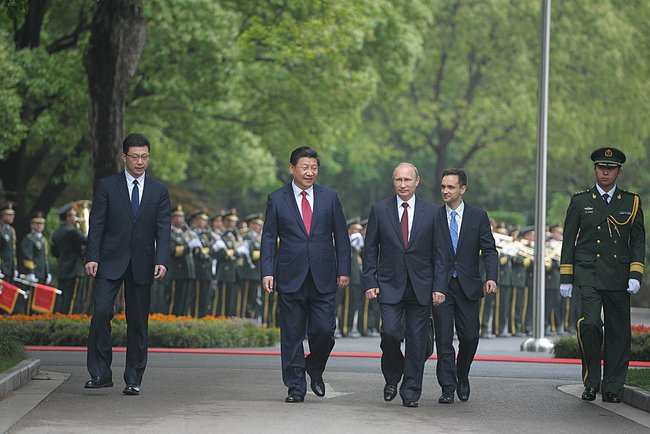 In yet another boost to the emerging world's most important economic, strategic, and political partnership, Vladimir Putin and Xi Jinping will take allied positions on key issues during the APEC Leaders Summit in Beijing this week.
"We are well aware that such collaboration is extremely important both for Russia and China. We take similar or even identical stands on major global and regional issues on the international agenda. The Russian-Chinese relations have become a crucial factor in accommodating the foreign policy interests of the two countries in the 21st century, playing a significant role in establishing a just, harmonious and safe world order," said Putin on Thursday ahead of his Beijing visit.
Andrey Denisov, Russian envoy to China said the two Presidentswill "synchronize time" – referring to coordinating their positions – on Russia-China relations, international affairs and the APEC meetings.
Russia attaches great importance to the strategic Asia Pacific region, Denisov told China's state media ahead of Putin's arrival.
He said "more actively taking part in regional economic cooperation to create favorable conditions for the social and economic development of Russia, particularly east Russia," is the country's strategic goal in the region.
Earlier on Thursday, Putin lauded APEC's role in maintaining stability in the region.
"When some countries prefer to act on the international arena using the methods of political, economic and often even coercive pressure the role of APEC as an effective coordinating mechanism for building a new regional architecture is indispensable," Putin said referring to US and EU sanctions on Moscow for the Ukraine crisis.
China is pressing for an "APEC information exchange" for free trade areas to increase transparency among the US-led Trans-Pacific Partnership (TPP) members and the China-led Regional Comprehensive Economic Partnership (RCEP) members.
Ahead of the APEC Summit, host China has announced major economic projects for the region including the rebuilding of the Silk Economic Belt and 21st Century Maritime Silk Road, and the crucial Asia Infrastructure Investment Bank. During the APEC Summit, Beijing will continue negotiations with countries like Australia Indonesia and South Korea, notable absentees from the list of nations who signed up for the China-led Bank.
A Bloomberg report quoted Chinese plans of a $16.3 billion fund for infrastructure projects linking China's markets to three continents in its bid to revive the centuries-old Silk Road trading route.
Meanwhile the Russian envoy to China said on Friday that Beijing's development drive in western China mirrors Russian efforts in the east.
"It would be a great boost to east Russia's development if China's business community can actively participate in investment projects in Siberia and the far east," Denisov said.
Russia will also push for aligning the reincarnation of a China-led Silk Road Economic Belt and the Eurasia transport and logistics passageway being built by Russia, asserted the Russian envoy on Friday.
Putin, had earlier this year, proposed aligning China's Silk Route revival project with Russian plans for a trans-Siberian railway.
"We see great potential in the idea of developing a common SCO transport system that would make use too of Russia's Trans-Siberian Railway and Baikal-Amur Mainline and be tied into China's plans for developing the Silk Road route. I am sure that big projects of this kind serve the interests of our organisation's members and would benefit all countries in Eurasia," said Putin.
Moscow will also support China's push for a roadmap on the massive free trade treaty: Free Trade Area of the Asia-Pacific (FTAAP) during the APEC meet. Beijing plans to counter US' progress in forming a Trans-Pacific Partnership that excludes China by an alternate mega Free Trade Agreement in the Asia Pacific.
"Obviously, the Trans-Pacific Partnership is just another U.S. attempt to build an architecture of regional economic cooperation that the USA would benefit from. At the same time, I believe that the absence of two major regional players such as Russia and China in its composition will not promote the establishment of effective trade and economic cooperation," said Putin on Thursday in Moscow.
"The multilateral system of economic relations in the APR can only be strong if the interests of all states of the region are taken into account. This approach is reflected in the draft of the Beijing road map for the establishment of an Asia-Pacific free trade area. The draft is to be discussed at the forthcoming meeting of APEC leaders," he added.
source
BRICS to meet during G20 Summit in Brisbane
November 7, 2014, 6:35 am

The leaders of the BRICS states (Brazil, Russia, India, China, South Africa) will meet on the sidelines of a G20 summit in Brisbane, Australia later this month to further boost political and economic ties between the group.
BRICS Presidents Xi Jinping, Vladimir Putin, Dilma Rousseff, Jacob Zuma and Prime Minister Narendra Modi will meet to eke out a strategy of cooperating within the framework of the G20 which is being held from November 15 to 16.
The five leaders will discuss developing agreements aimed at accelerating global economic growth and reiterate demands for one of the most difficult problems in global governance: IMF reforms.
Earlier this year in the Brazilian city of Fortaleza, BRICS heads of state agreed to establish a $100 billion New Development Bank (NDB) at their summit meeting, with severe implications for the global development-finance landscape.
The five countries have also created a $100 billion Contingency Reserve Arrangement (CRA), meant to provide additional liquidity protection to member countries during balance of payments problems.
Chinese and Russian Presidents Xi Jinping and Putin are also meeting in Beijing later this week during the APEC Leaders meet.
Recently reelected Brazilian President Dilma Rousseff confirmed on Thursday she will attend the BRICS meet and the G20 meet, accompanied by outgoing Finance Minister Guido Mantega.
The five countries are also expected to further discussions on a new "Energy Association" during the November meet aimed at ensuring the energy security of BRICS, and to conduct integrated research and analysis of global hydrocarbon markets.
Russian President Vladimir Putin had, during the 6th BRICS Summit in Brazil, proposed the establishment of a BRICS Energy Association.
"We could create a Fuel Reserve Bank and a BRICS Energy Policy Institute under its roof," Putin told his fellow BRICS leaders.
Meanwhile, India is bracing for further censure at the G20 Summit with its stymieing of a WTO trade pact earlier this year owing to its commitment to a domestic food security program. All the other BRICS members had agreed to adhere to the July 31 deadline for the trade facilitation agreement (TFA) which is expected to boost world GDP by up to $1 trillion.
The World Trade Organisation called on the G20 leading economies on Thursday to begin removing trade barriers. G20 leaders will push to save the WTO following warnings from Director General Roberto Azevêdo that it had descended into 'paralysis'.
The head of the global trading body had said last month consultations will continue on the future of the Bali decisions and post-Bali work program.
India had initiated backroom talks with WTO, US and EU representatives to reach a compromise before the G20 Summit, although hopes of a deal being clinched are remote, says Indian media reports.
Meanwhile, in the BRICS meet this month, the five countries are expected to further show support for beleaguered President Putin. The US has pushed European capitals, despite some resistance, to "punish" Putin with sanctions for the accession of the Crimean peninsula.
A joint BRICS statement earlier in March this year criticized Australian Foreign Minister Julie Bishop's statements that Putin could be barred from attending the G20 Summit in November.
"The Ministers noted with concern, the recent media statement on the forthcoming G20 Summit to be held in Brisbane in November 2014.  The custodianship of the G20 belongs to all Member States equally and no one Member State can unilaterally determine its nature and character," said a joint BRICS statement.
BRICS combined GDP has reached 21 per cent of the global volume, and the five nations already account for 11 per cent of accumulated investment and nearly 20 per cent of global trade. Mutual trade almost doubled in the 5 years to 2013 to reach $300 billion.
The next BRICS Summit will be held in the Russian city of Ufa on 9-10 July 2015.
source ►
Would you like to know how you can defeat Ebola and the Depopulation Agenda?
Defeating any viral attack and scaremongering is easy once you know the ultimate secret they've been keeping. Find out more about it here.
You can actually participate in the global efforts to cripple the Deep State organized criminal cabal's ability for genocide, while enjoying healthcare freedom at the same time, by boycotting Big Pharma for good.