In a rare move for the industry, one of the biggest banks in Greece decided to forgive the debts of its low income customers. On the other hand, Yanis Varoufkis has been replaced as debt negotiator for failing to produce results in the last three months of talks with the Troika.
The Tsipras government realizes that the proud members of the Troika negotiating panel couldn't stand Varoufakis's tendency to lecture them about a more slave-friendly debt policies anymore.

One of the Biggest Greek Banks Decides to Wipe Out Poorest Customers' Debt
03:07 25.04.2015(updated 11:40 25.04.2015
One of Greece's largest banks will wipe away the debts and freeze the mortgages of clients who owe up to 20,000 euros ($21,600) in a move designed to ease the burden on its crisis-hit customers.
The Bank of Piraeus, one of the country's four major banks, decided to write off or restructure debts in response to the "humanitarian crisis" through which its poorest clients were living, the company said in a statement.
Any clients who carry up to 20,000 euros in credit cards and consumer loans would have their debt written off completely, the bank said, while mortgage payments would be frozen and any associated interest forgiven.
The cut to mortgage loans only applies to interest imposed for as long as the loan remains frozen, which will apply up to the end of this year.
To be eligible for the debt relief, clients must meet specific criteria and already be enrolled in a benefits program recently launched under Greece's radical left Syriza government, which came to power in January.
The new social safety net legislation, part of the platform which helped Syriza ascend to power, was opposed by the European Union, which pressured lawmakers to drop the measures.
It also includes housing support and subsidized food purchases to aid those who have fallen into poverty as a result of the EU-IMF austerity measures imposed on the country, the Economic Times reported.
Earlier on Friday, the EU criticized Greece for what it called the country's lack of sufficient progress toward a debt deal between Athens and its international creditors
Bank sources who spoke to ANSAmed said that while the move will cost tens of millions of euros, it also will pave the way for other Greek banks to take similar initiatives. Those sources added that this is the first case of a mass debt write off under pressure from the crisis there.
While several bank bosses have left their posts since Syriza came to power, Piraeus has been a notable exception.
Sputnik
Greek finance minister Yanis Varoufakis replaced as leader of debt talks
27 April 2015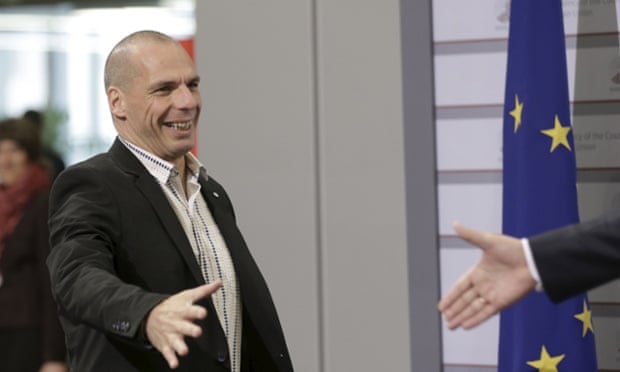 Syriza-led coalition appoints economics professor in leading role to overcome mounting European opposition to his controversial colleague
Greece moved to inject fresh momentum into problem-plagued talks with creditors on Monday, reshuffling its negotiating team to try and defuse tensions over its outspoken finance minister.
Hopes that a compromise deal was imminent helped rally the markets, as the FTSE rose to a new record high in London, despite Athens insisting that Yanis Varoufakis would continue to supervise talks.
In a bid to ease tensions with lenders, the Syriza party-led coalition said the minister of international financial relations, Euclid Tsakalotos, would take over the coordination of the new team. The appointment will see the economics professor, who was raised in the UK, assuming a more active role in face-to-face negotiations with creditors.
Reacting to the news, a senior European Union official confided that it had become "impossible" to do business with Varoufakis. "It had got to the point where eyes roll," he said. "People had got sick and tired of being lectured about austerity and the effects of the crisis. Any sympathy for Greece was eroded by his failure to draft concrete proposals."
However, one well-placed Athens official insisted that Varoufakis's role had been upgraded "in many ways". The official added: "To make him resign would be to retreat and the government would never do that."
Three months after his elevation to power, prime minister Alexis Tsipras has come under extraordinary pressure to remove Varoufakis. Yet last night Tsipras said that his finance minister "is an important asset for the government, and [with creditors] he speaks their language better then they do". In a wide-ranging interview aired on Greek TV, Tsipras rejected suggestions that his government had any intention of sacrificing the politician. Now that negotiations with creditors were in the final straight, Greece had to reorganise its negotiating team, the PM said.
Varoufakis, the academic-turned-politician who has set the anti-austerity administration's negotiating agenda from the outset, was rounded on by eurozone finance ministers at an explosive meeting on Friday. Upbraided for his brash style and reckless brinkmanship, Varoufakis hit back with a tweet that borrowed one of US president Franklin D Roosevelt's more memorial lines: "They are unanimous in their hate for me; and I welcome their hatred."
continue reading »


One of the significant sources of funds for the Cabal is the healthcare industry which registered a whopping $3.09 trillion in 2014, and is projected to soar to $3.57 trillion in 2017, in the US alone. We believe that this is just a conservative figure.
We can avoid using drugs, defeat any viral attack and scaremongering easily by knowing how to build our own comprehensive antiviral system. Find more about it here.
You can actually participate in the global efforts to cripple the Deep State organized criminal cabal's ability for genocide, while enjoying healthcare freedom at the same time, by boycotting Big Pharma for good.