Behind the scenes of 2011 Libya's bombing campaign. Hillary Clinton's close ally in his private emails to then Secretary of State have been leaked to the press. They reveal how the UK and France were struggling to get a larger piece of the Libyan cake. Britain is using intelligence to dictate the actions of both the Libyan rebels and the Gaddafi regime – one email said.

https://www.youtube.com/watch?v=zNoSYcRerxo
Published on May 20, 2015
Behind the scenes of 2011 Libya's bombing campaign. Hillary Clinton's close ally in his private emails to then Secretary of State have been leaked to the press. They reveal how the UK and France were struggling to get a larger piece of the Libyan cake. Britain is using intelligence to dictate the actions of both the Libyan rebels and the Gaddafi regime – one email said.
Diplomats maintained contact with the embattled government to protect British positions in case the unrest didn't end in a change of power. Plus, they were in talks with Gaddafi's son Saif in case he takes over power from his father.
The UK also teamed up with France – according to another email – in order to establish a semi-autonomous zone in the East, basically encouraging the country's split following Gaddafi's fall. The idea came from Nicolas Sarkozy's advisers.
The reason – the brand-new Libyan government failed to appropriately reward French firms with contracts. But who's the source? Sidney Blumenthal – former aide to President Bill Clinton.
He's said to be on the Clinton Foundation payroll. Blumenthal was also advised US firms who were seeking Libyan contracts. Hillary Clinton wanted to bring him to the State Department back in 2009, but President Obama's aides prevented the appointment. Catherine Shakdam, Middle East consultant and Associate for the Beirut Center in In the Now.
"In the Now" with RT's Senior Political correspondent Anissa Naouai is the first dedicated nightly Primetime show to air live out of our Moscow headquarters. Host Anissa Naouai has worked in the field for almost a decade and has reported from over 80 cities across the globe. Now from Monday to Thursday viewers can enjoy fresh, honest, and hard-hitting news coverage on some of the world's most pressing issues with one of RT's most experienced journalists . We'll put the spotlight on stories you'll never hear on mainstream networks or even in RT's daily news bulletins. "In the Now" – 8pm Moscow, 6pm London, 1pm New York.
RT
Petraeus mistress reveals real motive behind Benghazi attack (VIDEO)
"Now I don't know if a lot of you heard this, but the CIA annex had actually had taken a couple of Libya militia members prisoner," Broadwell told a crowd at the University of Denver alumni symposium on October 26. "And they think that the attack on the consulate was an effort to try to get these prisoners back. So that's still being vetted."
Broadwell's address was publicly available on YouTube until this weekend; it has since been removed, although mirrors have surfaced.
Until then, and even today, the CIA denies Broadwell's claims that the CIA was holding anyone prisoner at what has long been described as a consulate building in Benghazi. Should her account prove true, however, it could mean that the agency had a secret black site prison in Libya, a fact long denied by Washington. If true, it could also mean that not only was the security of United States' top intelligence office breached, but also may for once provide an impetus for the Sept. 11 attack.
continue reading »
Hillary Clinton's 'hacked' Benghazi emails: FULL RELEASE
Published time: March 20, 2013 18:18
Edited time: March 21, 2013 12:37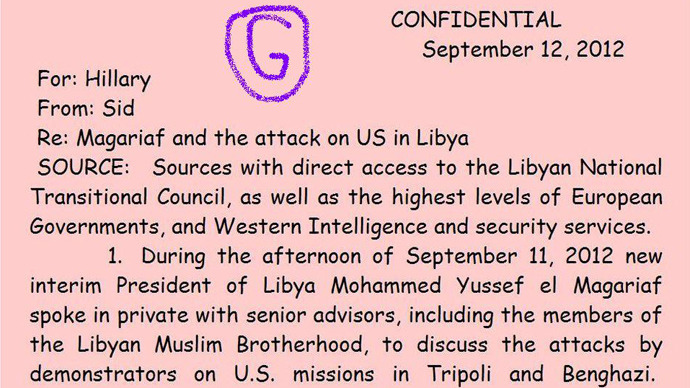 On the back of widespread public interest RT has decided to publish in their entirety a series of memos which were allegedly sent from a one-time White House aide to former Secretary of State Hillary Clinton.
The emails, which were allegedly sent by former political adviser Sidney Blumenthal to Secretary of State Hillary Clinton, were forwarded to RT by a hacker using the alias "Guccifer."
Guccifer was credited with hacking the AOL email account of Blumenthal last week, though the authenticity of the emails has not been verified.
The purported memos appear to contain sensitive information regarding the September 11, 2012 attacks on the US diplomatic mission in Benghazi, Libya, as well the January 2013 hostage crisis in In Amenas, Algeria.
Blumenthal has been refraining from comments so far. RT reached Blumenthal's son Max, who confirmed that his father will not be making any remarks about the leak.
In the leaked emails distributed to the media, Guccifer copied and pasted the correspondences into new files using bold Comic Sans text layered over a pink background, possibly as a security precaution. The letter 'G' on the memos appears to be the hacker's watermark.
Below are 4 letters dating from September 12, 2012-February 16, 2013. Any omissions are unintentional, as we are publishing all of the information that has been provided to us in the interest of full disclosure.


Excerpt missing


Excerpt missing


Excerpt missing

One of the significant sources of funds for the Fascistic Nazionist Khazarian Jesuit Mafia is the healthcare industry which registered a whopping $3.09 trillion in 2014, and is projected to soar to $3.57 trillion in 2017, in the US alone. We believe that this is just a conservative figure.
We can avoid using drugs, defeat any viral attack and scaremongering easily by knowing how to build our own comprehensive antiviral system. Find more about it here.
You can actually participate in the global efforts to cripple the Deep State organized criminal cabal's ability for genocide, while enjoying healthcare freedom at the same time, by boycotting Big Pharma for good.