A short article from a local online news site describes so vividly the same prevalent global picture of an economy that only favors the few, in our case, foreigners, i.e. mestizos, who dominate the economic and political landscape in this part of the world.

These mestizos control the official narrative and conversations in the media, set the price of electric power, deliberately limit the speed of the internet at 25 kBps, and select who can run in any elections.
Any president that will do what the people truly deserves are either put in prison, or murdered via unexplained heart attack. The scorecard:
2 incarcerated presidents : Joseph Estrada, for his plan to reform the land title registration which could dislodge historical landgrabbing families [here]; Gloria M. Arroyo, for cavorting with China regarding nationwide broadband network and massive railway projects, which could hurt the profitability of local mestizo owned industries like the Aboitiz shipping and Smart / Globe telecommunications, respectively;
2 murdered: Pres. Ramon Magsaysay, presidential plane blown up by CIA for being the "Man of the People"; Pres. Fernando Poe, Jr. heart attack for planning to renegotiate IMF/World Bank debt;
1 overthrown via CIA coup d' etat / Jesuit led "color revolution": Pres. Ferdinand E. Marcos, for his 11 point industrialization plan which included the [CIA puppet] Aquino mothballed nuclear power plant.
So, if our economy is growing and poverty is still rising, how much more in countries that have flatlined for the last 5 years?
Despite high economic growth, PH poverty on the rise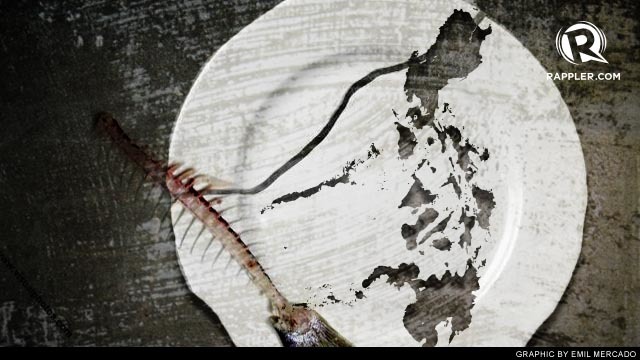 Although Asia as a region has been successful in translating positive economic growth to poverty reduction, Philippine poverty is still increasing despite its GDP growth
MANILA, Philippines – In parts of Asia and the world, economic growth is leading to poverty reduction but such is not the case in the Philippines, said former socioeconomic planning secretary Cielito Habito.
At the "Towards Zero Poverty" symposium on Wednesday, September 23, Habito contextualized Philippine poverty within the situation of national and regional economic growth and income inequity.
Although Asia has been successful in translating positive economic growth to poverty reduction – with every 1% of its gross domestic product (GDP) growth resulting in 1%-2% poverty reduction – poverty in the Philippines has not been tempered by its GDP growth.
"The Philippines has missed the key Millennium Development Goal's target of halving poverty," said Habito, an economics professor at the Ateneo de Manila University.
The country's GDP from 2004 to 2009 grew by an average of 4.9%, but its poverty incidence increased to 26.5% in 2009. Habito noted that the number of poor families also increased by 185,000 from 2006 to 2009. Meanwhile, the net elementary and high school participation rates also went down.
Good news, but not for all
Using Habito's PiTiK test, which measures the economy using Presyo (Price Stability), Trabaho (Jobs), and Kita (Incomes), he found that the Philippines passes on all 3. "It's all good news on the PiTiK test," he said. However, this growth has been non-inclusive.
The richest 1% controls 60% of the GDP in an economy that is "narrow, shallow, and hollow," explained Habito. Philippine growth has largely been driven by only a few sectors and areas; the bulk of the country's exports, the biggest of which is technology, are not linked to other areas of the economy. The availability of jobs is also lagging behind economic growth.
The service industry is currently driving the economy, but it cannot provide all the jobs needed to address the unemployment rate of 6.5% and the underemployment rate of 21%, according to Rafaelita Aldaba of the Department of Trade and Industry (DTI). (READ: Who are the middle class?)
The lack of sustainable income among several families has then led to the difficulty in reducing poverty. There is a need for sustainable livelihood, said Social Welfare Undersecretary Angelita Gregorio-Medel, adding that "there is no real reduction in poverty if you cannot earn income – and income that is not misleading."
Achieving inclusive growth
Habito proposed 5 areas of improvement for the Philippines to achieve reduced poverty: micro, small, and medium enterprise (MSME) development, competition policy, asset reform, sector or industry inclusive growth, and human development.
MSME development, for Habito, would involve a "government-wide concerted effort" to address the needs of small enterprise. He suggested that MSMEs should be declared "the centerpiece economic program for our government," to level the playing field and give the sector a chance to compete.
Among the 3 sectors Habito saw as "inclusive growth drivers," Aldaba and National Economic and Development Authority Director-General Arsenio Balicasan identified the manufacturing industry as needing a structural overhaul.
Aldaba said manufacturing had seen little structural change, as evidenced by its poor performance. It must now be revived, he said, echoing Balisacan's call.
As an inclusive growth driver, manufacturing is capable of creating positive links with other industries and generating employment. However, the Philippine government must invest in the development of human capital to take full advantage of this. For Aldaba, this means providing access to education that would increase skills.
However, education must also mold graduates who would pursue entrepreneurship. Habito observed that the current model "fosters overseas employment" and "perpetuates [an] oligarchic economy." Along with education, Habito identified universal health care access as another key aspect in developing human capital.
'Poverty need not be inevitable'
As a postscript to his talk, Habito cited statistics that one in every 5 Filipino families lives in poverty. Solving this involves addressing the greatest needs of the poor as well as "[nurturing] them sustainably out of poverty."
The DTI is attempting to solve this by implementing structural changes in industries to promote job creation. For the DSWD, the focus is on providing equal opportunities, especially for the marginalized poor.
"It's really equality of opportunities, the equalization of opportunities, because poverty is pretty complex and multi-dimensional," said Medel.
For the private sector, poverty reduction involves "sharing and caring," according to Habito. He believes that the Philippines "only [needs] one out of every 4 non-poor Filipino families to 'adopt' one poor family and help nurture them sustainably out of poverty."
Habito shared a story of a woman whose neighbor's children were crying for food, but there was none for them to eat. The woman then brought food to her neighbor's house and shared half of it with them. "If somebody so poor already can still share, what about the rest of us who are so much more comfortable?" said Habito.
"I believe that with caring and sharing, zero poverty and shared prosperity need not just be a dream," he continued. – Rappler.com
Bea Orante is a Rappler intern
rappler.com
Sensing consistently growing global unrest, the so called "authorities" are now in the process of modifying the system from an exclusive party to inclusive one, with them still in control, of course.
Still, not all of them, i.e. members of super rich club, are in agreement as to how exactly they should go about it. The moderates approve on the shift to resource based economy, not to be confused with Jacque Fresco's The Venus Project though.
"In simplest terms," Wood explains, "Sustainable Development is a replacement economic system for capitalism and free enterprise. It is a system based on resource allocation and usage rather than on supply and demand and free economic market forces."
The U.N. has been quite open about replacing global capitalism.
The Cabalist version of a resource based economy to create an" all inclusive economy" only sought to increase distribution of resources and technologies that are already in the open, but does not include long suppressed technologies, i.e. free energy, anti-gravity, longevity, etc.
More importantly, the workers are being laid off in favor of industrial automation and robotics, instead of being made to enjoy the benefits of not working in harsh conditions and without take home pay reductions.
This they do in order to maintain an atmosphere of resource scarcity to justify population control through UN mass vaccinations, chemtrail operations, 1080 pesticide broadcasting, etc.
"The world body's sustainable development goals promise the end of poverty, education, clean water, justice, good health and well-being, jobs for all, decent shelter, and a life of personal dignity. "These are lofty goals," says Patrick Wood, a commentator on global issues, "but are they for real? Or do they sound like a bait-and-switch scheme that contains a potentially dangerous payload?"
That negative perception arose from the fact that the same stooges are still the prime actors in this recently publicized script:
"John Podesta, the chairman of the 2016 Hillary Clinton presidential campaign who previously served as counselor to Obama, was picked by U.N. Secretary-General Ban Ki-moon to be a member of the "high-level panel" of "eminent persons" planning the future of the globe.
… While the media pay great attention to the pope, little if any coverage has been given to the involvement of the Vatican in the U.N. "sustainable development" agenda that could radically affect the individual lives of ordinary Americans. The stated purpose of the Podesta panel's report is to "transform economies through sustainable development."
Another extreme disagreement to the Pope's inclusive economy plan is from a "leading American scientist":
"In a commentary in the journal Nature Climate Change, Paul Ehrlich, a senior fellow at the Stanford Woods Institute for the Environment, argues that Pope Francis is simply wrong in trying to fight climate change without also addressing the additional strain on global resources from population rise. "That's raving nonsense," Ehrlich told the Guardian. "He is right on some things but he is just dead wrong on that.""
The eugenicist/capitalist camp really has a big problem, i.e. how can they give up some of their deeply cherished doctrines just so they could still be in the position of power, at least, to buy enough time. They have to do so knowing they have nowhere else to go other than oblivion.
But there's one Cabalist who can no longer sustain the illusion.
The true image of the rising tiger Philippine economy…

When they could not dislodge the poor through the legal avenues because the Oligarchy could not prove their ownership, they will pay someone to commit arson. Induced poverty is one form of mass genocide.
You can actually participate in the global efforts to cripple the Deep State organized criminal cabal's ability for genocide, while enjoying healthcare freedom at the same time, by boycotting Big Pharma for good.