Just a week ago, the British Parliament approved another bogus "War on Terror 2.0" in the Middle East. The country immediately launched "air strikes on Syria, hours after," says the Financial Times.

"Britain has launched air strikes on Syria, hours after MPs overwhelmingly endorsed David Cameron's plan to bomb what he called the "medieval murderers" of Isis."
http://www.ft.com/cms/s/0/57e82dea-98e1-11e5-95c7-d47aa298f769.html
Indeed, the British Royal Air Force are launching war on Syria and not in Syria to pulverize the terror group whose oil enterprise has benefited Europe, and the country's precious relics are now gracing the homes of the European elite.
Self-aggrandizement at the cost of civilian lives including children and those that survived, their future.
Those that decide so easily when a country goes to war are the ones who will never send their sons to the battlefields. They will never know the true extent of pain and suffering from the look in the mother's eyes finding her son buried in the rubble of their own home destroyed by BAE manufactured munitions.
But the soldiers do.
To Western politicians, the most important thing in this world is not the lives of other people. What's far more important to them is they'd be able to send their children to ivy league schools and rub elbows with High Society through fat commissions from generous weapons manufacturers.
Arms manufacturers stocks soar after UK decision to join Syria bombing
Prospect of lengthy war provides boost for arms and weapons companies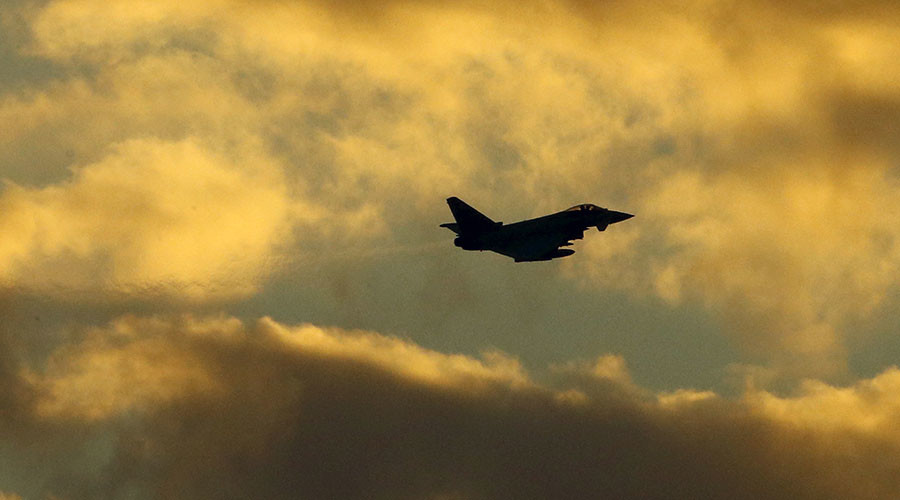 SHARE PRICES of Europe's largest weapons manufacturers have all jumped following the UK decision to join the 15 month old bombing campaign in Syria.
Stock values at BAE Systems, Airbus, Finmeccanica and Thales all soared when markets started trading this morning as EU government plough greater resources into Middle Eastern wars.
BAE Systems jumped four points at start of trading, just hours after its Tornado jets left UK bases in Cyprus to bomb Omar oilfields.
In total BAE Systems, the main private sector beneficiary from UK military spending, has seen its value increase by 14 per cent in the two and a half weeks since the Paris attacks of 13 November.
Since the attack the UK Government has promised billions in extra security and military spending.
Aircraft and missile firm Airbus, which is a developer of Typhoon aircraft, is currently trading up 1.5 per cent since the stock market opened.
Finmeccanica, the giant Italian military firm, has seen its shares rise almost 2 per cent since this morning.
Andrew Smith of Campaign Against Arms Trade told CommonSpace: "Unfortunately, where most of us see war and destruction the arms companies see a business opportunity. It is conflict and military intervention that fuel arms sales, and companies like BAE are only too happy to cash in from it. These companies don't care who uses their weapons or the damage they cause, the only thing they care about is profit."
The arms sales of the world's four biggest corporations alone are equal to more than $100bn for 2013.
US investigative group The Intercept previously noted how the Paris attacks led to a rise in stock values for the country's biggest arms companies.
The political response to events in Paris has been to prioritise a military response over humanitarian alternatives.
Recently Chemring, an arms company whose tear gas has been used against civilians in Egypt and Hong Kong, welcomed the financial opportunities of violence in the Middle East.
It's annual report stated: "Chemring is well-positioned to benefit from any sustained increase in demand as a result of the conflict in the Middle East. Furthermore, although there has been a slowdown in the West's military spending, it is important not to forget that in both Asia and the Middle East there are signs that military spending is on the increase and Chemring will be looking to take advantage of this trend wherever possible."
https://commonspace.scot/articles/3054/arms-manufacturers-stocks-soar-after-uk-decision-to-join-syria-bombing
A very strong proof that that these politicians are just after war kickbacks is the recent scrapping of UK's biggest warship after it had undergone a £65 million repair.

"The Prime Minister was accused of "burying" news about the decommissioning of HMS Ocean – the Royal Navy's flagship – as the decision was not mentioned in a Government white paper on defence and security. "
http://www.express.co.uk/news/uk/621985/HMS-Ocean-Britain-s-biggest-warship-scrapped-FOUR-years-65-million-re-fit
Who truly owns BAE Systems?
Royals and the arms industry
"BAE systems, Britain's leading arms manufacturer recently sold 72 Typhoon fighter jets to the Saudi Arabian dictatorship. The original offer from the Saudi's was £4.4 billion, but when the deal was done Ian King, BAe's chief executive, said the public was 'never going to know' how much the company was eventually paid.
But one thing we do know is that on the very eve of the day the deal was signed Prince Charles was in the Saudi capital Riyadh, dressed in traditional robes and joining the Saudi princes in a sword dance.

The palace denied the Princes, Saudi and British, discussed the arms deal. But Andrew Smith from the Campaign Against the Arms Trade says: 'It is clear that Prince Charles has been used by the UK government and BAe Systems as an arms dealer'. This was Charles' 10th visit to the Saudi regime and was made at the request of the Foreign Office."
http://stopwar.org.uk/index.php/news/queen-long-to-reign-over-us-the-truth-about-the-monarchy-money-and-guns
'Why I threw down my medals on Downing Street': Libya war veteran speaks to RT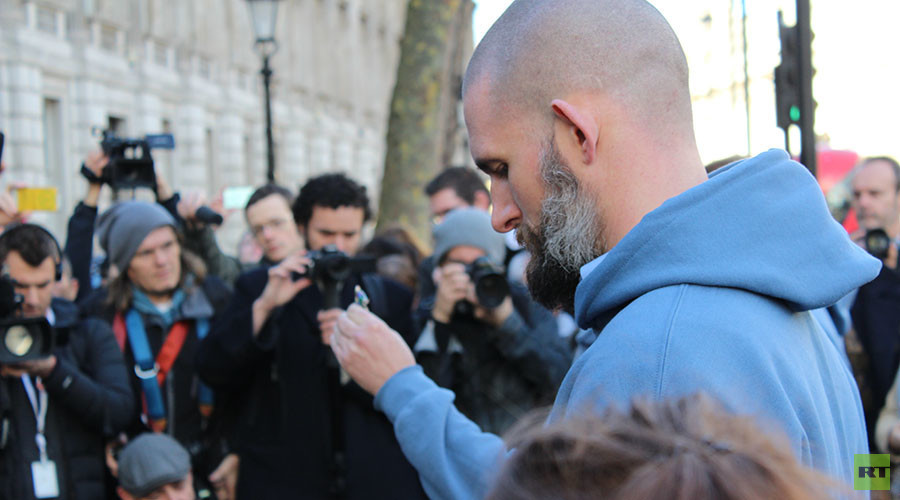 Royal Air Force veteran Daniel Lenham served in Iraq and later in Libya during the 2011 NATO intervention. Ahead of his full interview on RT's Going Underground, he explains why he threw his medals down on the pavement outside Downing Street.
Lenham said the act of casting aside his decorations left him feeling empowered. He found the experience "therapeutic."
"If I am honest, it was an emotional event and part of a process I am on," he said.

Lenham saw it as an opportunity to express his disgust at the government's "insane folly" of bombing Syria.
Lenham was among four ex-servicemen from Veterans for Peace UK to throw down their medals in protest. The group held a similar ceremony in July. Tuesday's act, however, was directed at parliament's decision last week to launch airstrikes on Syria.
Asked what he made of the Syria vote, Lenham blasted the MPs who brought the UK into another Middle East conflict.
"If they are voices of the people, they are not listening," he said, adding that the vote highlights a "detachment between politicians and people."
Libya veterans rarely speak out, but Lenham described in detail his part and thoughts on the 2011 mission to overthrow Colonel Gaddafi.
As the head of a weapons loading team, responsible for attaching bombs to RAF jets at an Italian airfield, Lenham began to doubt the morality of the mission.
Though he had been "bombed and rocketed" in Iraq, it was in relatively secure Italy that his views changed.
"What is this bomb going to achieve," he found himself wondering, as he loaded up Typhoon jets for their sorties.
"Someone is doing my job for Syria now," he reflected, hoping they too would reach his conclusions on war.
"We must direct our communications at weapons loaders, technicians, chefs and drivers," he said.
Veterans for Peace UK told RT that up to fifteen former military personnel have signed up to its cause in the last few days, bringing its membership to around 280.
Daniel Lenham's full interview with Going Underground's Afshin Rattansi airs on Wednesday at 11:30, 14:30 and 21:30 GMT on RT.
https://www.rt.com/uk/325135-veterans-medals-discarded-syria/

The transition to peace is taking so long.
You can actually participate in the global efforts to cripple the Deep State organized criminal cabal's ability for genocide, while enjoying healthcare freedom at the same time, by boycotting Big Pharma for good.