A continuing trend of distrust against mainstream media shows the effectiveness of the efforts of independent alternative media.
In 2009, only 45% fairly trusted the mainstream media, while 2 out of 10 have no confidence whatsoever. That trend continues today…

60% distrust rating is a critical mass achieved by the Americans.  But it's one thing to know that your government is lying. It's another when one begin t contemplate what to do about it.
As Edmund Burke once said, "Evil prevails when Good Men do nothing."
"WASHINGTON, D.C. — Less than half of Americans (45%) say they have a great deal or fair amount of confidence in the media to report the news fully, accurately, and fairly — on par with last year's record-low 43%. About 2 in 10 Americans (18%) have no confidence in the media at all — which is also among the worst grades Gallup has recorded.


The findings are from the same Gallup survey, conducted Aug. 31-Sept. 2, 2009, that found more Americans following political news very closely than in any other recent year without a presidential election. Despite the relatively high level of interest in political news in particular, many Americans appear to be consuming their news skeptically. Ten percent say they have a great deal of confidence in the media's reporting and 35% have a fair amount, but 37% do not have very much confidence and 18% have none at all."
http://www.gallup.com/poll/123365/Americans-Remain-Distrusting-News-Media.aspx?g_source=media%20distrust&g_medium=search&g_campaign=tiles
In 2015, those negative figures aggravated as only 4 out of 10 Americans fairly trust the mainstream media…
"WASHINGTON, D.C. — Four in 10 Americans say they have "a great deal" or "a fair amount" of trust and confidence in the mass media to report the news fully, accurately and fairly. This ties the historical lows on this measure set in 2014 and 2012. Prior to 2004, slight majorities of Americans said they trusted the mass media, such as newspapers, TV and radio.


Americans' confidence in the media has slowly eroded from a high of 55% in 1998 and 1999. Since 2007, the majority of Americans have had little or no trust in the mass media. Trust has typically dipped in election years, including 2004, 2008, 2012 and last year. However, 2015 is not a major election year.
This decline follows the same trajectory as Americans' confidence in many institutions and their declining trust in the federal government's ability to handle domestic and international problems over the same time period.


Trust in the Mass Media Has Fallen More Sharply Among Those Younger Than 50
Trust in the media continues to be significantly lower among Americans aged 18 to 49 than among those 50 and older, continuing a pattern evident since 2012. Prior to 2012, these groups' trust levels were more similar, with a few exceptions between 2005 and 2008."


http://www.gallup.com/poll/185927/americans-trust-media-remains-historical-low.aspx
Gallup polls is of course conservative in favor of the establishment. The level of distrust could be higher than that. But the figures above showing consistency of descending trust trend is enough for us to say that the establishment media is in a decline.
Also, the data are only showing American viewers.only  The European population, however, is more politically aware, judging from there periodic street protests on global issues like the UK planned enhanced engagement in Syria.
The declining trajectory of media trust will be further enhanced once the mainstream audience become more aware of the following facts:
Cable News Network (CNN)
Location:  Atlanta, Georgia
Politics:  Jokingly known as 'Clinton News Network' in the '90s, CNN's worldview can best be deciphered from studying the speeches of Hillary Clinton. The station oscillates between currently fashionable neoliberal causes.
Money Matters
Owned by Time Warner, a publicly-traded company. In the second quarter of 2015, the media conglomerate's revenues were $7.3 billion, of which $2.8 billion came from Turner, CNN's parent company. Turner is comprised of CNN, HLN, TBS, TNT, Adult Swim, Cartoon Network and truTV. In addition, the company manages several sports websites. Revenue for that operating division comes from content, subscriptions, advertising and delivery.
Essentials
CNN, the brainchild of Ted Turner, made its debut on June 1, 1980, from its headquarters in Atlanta, Georgia. Competing with ABC, CBS and NBC, CNN became the first channel to provide news 24/7. Despite its humble beginnings, the network earned its reputation in the early 1990s during its live coverage of the Persian Gulf War. CNN was also the first channel to report the 9/11 attacks. While CNN strives for political impartiality, Pew research has revealed that its audience leans slightly to the left. The channel is currently available in 100 million households across the US. CNN has also expanded abroad with channels broadcasting in Turkish, Japanese and Spanish. With news operations in Hong Kong, Abu Dhabi and London, CNN International reaches over 290 million households further afield. Its coverage is carried by more than 1,000 affiliates worldwide.
Key People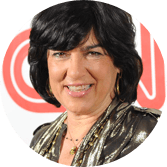 Christiane
Amanpour
The British-Iranian presenter is married to former US Assistant Secretary of State James Rubin. Rubin was the State Department spokesman during Bill Clinton's administration and later advised Hillary Clinton. Rubin also served as former candidate John Kerry's senior adviser on national security. Kerry is now the US secretary of state.
https://twitter.com/russian_market/status/447379197414350848
Amanpour's sister-in-law Elizabeth Rubin is a press fellow at the CFR. Amanpour herself has passionately supported a US intervention in Syria, shedding her pretense of journalistic impartiality and being presented as a 'Middle East expert' in the UK.
Following the November 13 terrorist attacks in Paris, Amanpour accused President Obama of lying about Islamic State and dismissing the only successful strategy against the terror group.
Describing Obama's statement that the US strategy against IS was working as "pretty incredible," Amanpour said "The only strategy that's working is the strategy that he [Obama] tends to dismiss — and that's the ground troop strategy."
"He's saying that ISIS is contained. This also…is not actually true," Amanpour told her colleague Anderson Cooper.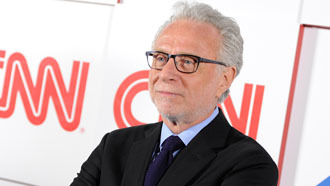 Wolf
Blitzer
Somehow dubbed 'Iron Man' by his colleagues, he is the face of CNN's political coverage. In the 1970s, the German-born Blitzer worked as an editor of monthly publications at the American Israel Public Affairs Committee (AIPAC) which is lobbying pro-Israeli policies in Washington.
Having joined CNN in 1990 as a military reporter, in 1992 Blitzer got the gig as the network's White House correspondent. From there, he rose to become CNN's lead political anchor.
Among controversies featuring Blitzer is an episode during a 2012 elections interview. CNN went live to the Iowa Caucus to speak to Corporal Jesse Thorsen, a US military veteran and adamant supporter of Rep. Ron Paul. Thorsen praised Paul, who was trailing frontrunner Mitt Romney by fewer than 200 votes, for his non-interventionist ideals. But just as Thorsen began to get passionate the feed went out. "Sorry, we lost the signal," Blitzer said, dismissing it as a technical malfunction. A lot of viewers didn't buy into the tech-error excuse and cried censorship.
Barbara
Starr
Sources: Terrorist bomb maker survived U.S. strike. @barbarastarrcnn reports. Stay w/ @CNN for the latest. pic.twitter.com/B6kV1hra37

— OutFrontCNN (@OutFrontCNN) December 10, 2014
As Pentagon correspondent, Starr was called a 'spokesperson for the Pentagon' by the late Rolling Stone journalist Michael Hastings. In a June 2013 CNN blog entry entitled 'Terrorists try changes after Snowden leaks, official says', Starr, citing a US intelligence official, wrote "several terrorist groups are in fact attempting to change their communications behaviors based specifically on what they are reading about our surveillance programs in the media." During a monologue on his MSNBC program 'All In', Chris Hayes notes that all of the information passed on to Starr regarding terrorist communication patterns was "almost certainly classified."
"This article not only self-servingly advances the narrative that the intelligence community would like us to believe, that the Edward Snowden links have helped the terrorists, but in doing so, it could be seen in doing far more to concretely alert terror groups to what the US intelligence community knows about them and their communications that anything published by the Guardian or the Washington Post [which broke the Snowden leaks]," Hayes said.
He went on to note that sharp contrast between how the Beltway reacted to Glen Greenwald's reporting for the Guardian on the Snowden affair versus Starr's use of potentially leaked information.
"When, as with Glen Greenwald's reporting, the leaks are not specifically designed to advance the Pentagon's agenda, then we have shock, controversy and calls for prosecution. But when they are, as with the Barbara Starr reporting, [then there's] radio silence."
Chris
Cuomo
Family political ties run deep for Chris. He is the brother of current New York Governor Andrew Cuomo, whom he famously interviewed in December 2013 after a tragic train accident, throwing him softball questions and even admitting "we're family, so we've been talking about this a lot" at one point in the segment.
Their father, Mario, also held the governor post from 1983-94.
Chris' wife, Cristina Greeven, is the former editor of Gotham — a lifestyle magazine aimed at New York's super wealthy.
Controversies
Numerous sources have taken CNN to task for presenting war as entertainment, something considered to have begun during the first Gulf war in the early 1990s.
Amanpour was heavily criticized for "being a cheerleader for the Bush war drive against Iraq." German newspaper Sueddeutsche Zeitung declared that CNN's conflict coverage was similar to that of the Super Bowl. A CNN reporter was quoted as saying that bombers taking off from Saudi Arabia was a "sweet, beautiful sight."
In China, the network has been lambasted by Xinhua news agency for offering one-sided coverage of disturbances in Urumqi and Tibet. The same concerns hovered around their coverage of Thailand's 2010 political protests.
In 2008, CNN showed violent clashes between police and protestors in Belgrade, while speaking of a nationalist threat in the Balkan nation. There was one major problem — the images shown came from Budapest two years earlier. Budapest is the capital of Hungary.
Later that year, during the South Ossetia War, CNN used images from Georgia's destruction of Tskhinval to illustrate a piece about the Russian bombardment of Gori. CNN ignored the criticism and never addressed it.
Amber Lyon, a former correspondent at the network, claimed in 2011 that she had been instructed by CNN to ensure her reports helped sway US opinion towards supporting an attack on Syria, and even Iran. She also alleged that this was common practice at CNN. Lyon also stated that Bahrain's government had paid CNN for positive coverage.
In 2006, CNN was banned from Iran for incorrectly translating a statement by then-President Mahmoud Ahmadinejad. CNN reported that he had said: "the use of nuclear weapons is Iran's right." What he actually said was "Iran has the right to nuclear energy. A civilized nation does not need nuclear weapons, and our nation does not need them." CNN opted to apologize for the mistake, prompting the Islamic Republic to lift the ban.
CNN's technical mess-ups are legendary, from basic geographical fails to misidentifying religious sites. In 2007, they used Osama Bin Laden's photo captioned with Barack Obama's name in a Wolf Blitzer segment called "Where's Obama?"
Woah, CNN! Obama dead? pic.twitter.com/6ARN1LGOw2

— Anthony Dominic (@alloveranthony) November 10, 2014
CNN once again dropped the ball while covering the November 18, 2014, terror attack in Jerusalem. Reporting live on the horrific attack at a Jerusalem synagogue, which left three Israeli-American citizens and one British-Israeli citizen dead, the American network ran the questionable headline: "4 Israelis, 2 Palestinians killed in synagogue attack," failing to note that the two Palestinians were actually the attackers.
What's worse, CNN ran a graphic that said that the attack happened at a "Jerusalem mosque" provoking a wave of social media outrage.
http://msm.rt.com/#usa/tv/cnn

One of the significant sources of funds for the fascist Nazionist Jesuit Khazarian Mafia is the healthcare industry which registered a whopping $3.09 trillion in 2014, and is projected to soar to $3.57 trillion in 2017, in the US alone.
We can help take down the Dark Cabal by avoiding drugs, defeat any viral attack and scaremongering easily by knowing how to build our own comprehensive antiviral system. Find more about it here.