At exactly 4pm GMT+8, the newly installed Duterte government is expected to give a radical departure from the usual fashion show contest of past SONAs, by providing the Philippine population their 1st True State of the Nation Address.

During his speech, he deviated frequently from the teleprompter which should his true unorthodox character and style of governance. His unpredictability is what keeps his detractors always on the edge.
Full speech:
In the meantime, the Philippine Congress has just elected its new speaker, Representative Pantaleon Alavarez, a party mate of the incumbent president.
For the first time, progressive activists are not on the streets to protest, but to express support to the Philippine government, and are being allowed to reach within the vicinity of the Philippine Congress.
Here's a live feed from the newly revitalized People's Television.
Barely 25 days into office, massive changes in the bureaucracy and in the war against criminality, drugs and corruptions are already being felt by the people.
The signing of the Freedom of Information EO is the first in the country.
It comes as no surprise for Duterte to earn 91% trust rating in the recently released Pulse Asia and Philstar surveys, the highest in the entire history of Philippine politics.


Bloomberg reports,
The Philippine president, Rodrigo Duterte, delivers his first State of the Nation address Monday. The stock market has delivered as well. The benchmark in Manila has jumped nearly 12 percent since Duterte declared victory on May 10, standing just shy of a record, to become the best performer in Southeast Asia.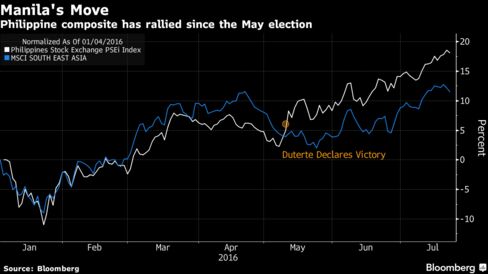 http://www.bloomberg.com/news/articles/2016-07-24/philippine-stocks-gain-12-percent-since-duterte-victory-chart
You can actually participate in the global efforts to cripple the Deep State organized criminal cabal's ability for genocide, while enjoying healthcare freedom at the same time, by boycotting Big Pharma for good.