COVID19, a highly malleable weapon of choice and the subject of 73 patents, has hit the UK Navy flagship HMS Queen Elizabeth with an outbreak on the way to Asia. But its officials are not about to discontinue its 40-country tour in the region because the rules don't apply to them.
SCMP reports,
The Royal Navy's flagship, HMS Queen Elizabeth, is managing a Covid-19 outbreak after more than 100 crew were infected during a port call in Cyprus earlier this month, officials said on Wednesday.
The first cases were identified on or around July 4 when the state-of-the-art aircraft carrier was docked at Limassol port on the island's south coast. Britain's largest warship docked in Limassol from June 30 until July 5, spearheading the country's largest peacetime deployment in a generation, Carrier Strike Group 21.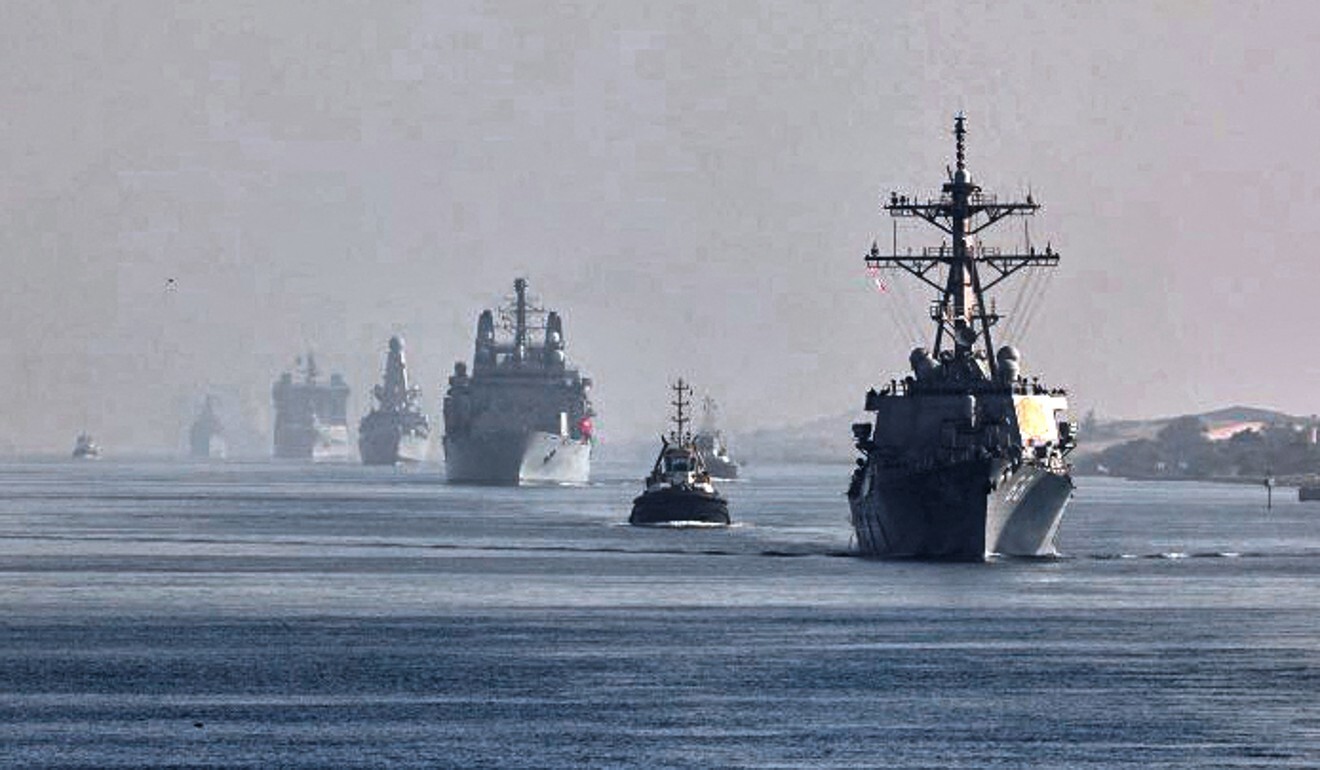 "As part of routine testing, a small number of crew from the Carrier Strike Group have tested positive for Covid-19," the Royal Navy said in a statement.
"All personnel deployed have received both doses of the Covid vaccine, and there are a number of mitigation measures on board, including masks, social distancing, and a track and trace system.
"The Carrier Strike Group will continue to deliver their operational tasks, and there are no effects on the deployment."
According to British newspaper The Sun, almost half the warships in the carrier strike group have been hit by positive cases.
It said they include at least 100 crew of the HMS Queen Elizabeth after sailors "were given a run ashore in Limassol".
During her five-day call at Limassol port, HMS Queen Elizabeth welcomed on board dignitaries including Cypriot President Nicos Anastasiades.
British Defence Minister Ben Wallace said the outbreak had prompted no rethink of the carrier group's planned 40-country tour.
There are 3,700 personnel across the entire carrier group, including the 1,600 on the HMS Queen Elizabeth.
Wallace told a press briefing on Tuesday: "Our crew are double vaccinated, so you'll be glad to know there is no serious effects on any of the crew, and we will manage it."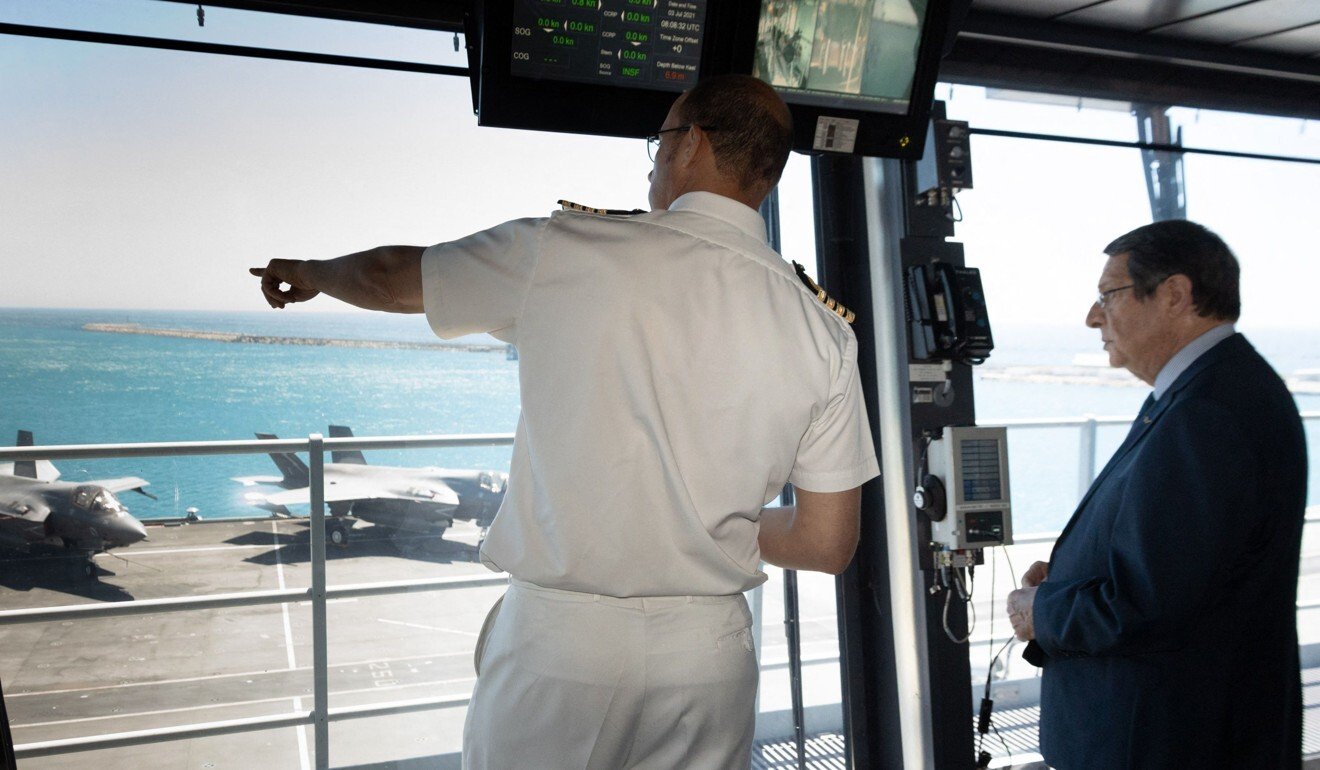 HMS Queen Elizabeth is leading nine United Kingdom Carrier Strike Group (UKCSG) ships on a 26,000-mile (42,000km) deployment across the Mediterranean, the Indian Ocean and East Asia.
Cyprus is suffering a fourth wave of coronavirus driven by the aggressive Delta variant, with infections hitting a record 1,081 on Tuesday.
The Republic of Cyprus has confirmed a total of 86,185 cases and 382 deaths in the pandemic.
https://www.scmp.com/news/world/europe/article/3141136/uk-navys-flagship-hit-covid-19-outbreak-en-route-asia
Analysis
The strategy is to spread the COVID19 bioweapon as far and wide as possible to create the highest need for experimental mRNA gene therapy manufactured by western companies.
Countries hit by the plandemic have asked these companies to send them mRNA injections on loan, with guarantees not only with sovereign payments for its delivery, but also with sovereign commitments that absolve the pharmaceutical companies from lawsuits.
Pfizer is even asking for government sovereign assets to cover for the cost of future litigations.
The deliberate spread of bioweapons is not without high profile precedents, to wit:
There is proof many organisations – World Health Organisation, UN as well as vaccine companies such as Baxter and Novartis – are part of a single system under the control of a core criminal group, who give the strategic leadership, and who have also funded the development, manufacturing and release of artificial viruses in order to justify mass vaccinations with a bioweapon substance in order to eliminate the people of the USA, and so gain control of the assets, resources etc of North America…

To sum up: the pandemic flu vaccine is

a) classed as a "bioweapon" according to the US government's own documents (see Attachment 1),

b) the vaccine companies tasked with producing the vaccine have been involved in the activities of the type typical of bioweapons, including developing weaponized viruses, releasing them into the general public, in deliberate contamination of vaccines resulting in death and injury and designing trials of vaccine to cause death and injury and there is a high probability the vaccines will be cause injury or death, and

c) the government is acting unconstitutionally and illegally in compelling them to take an injection of a substance classified as bioweapon

d) in criminalising a refusal, and

e) in waiving people's right to claim compensation in the event of injury or damage, and

f) by misusing the US population as "vectors" to spread the pandemic because the act of mass vaccination, that is to say, of forced injections of of toxins under guise of offering prophylactic treatment is the very process by which the virus will be able to mutate and release a fully weaponized virus.
Evidence-of-the-Use-of-Pandemic-Flu-to-Depopulate-USA

Coronavirus appears in more than 4000 patents, and COVID19 is a subject covered in 73 patents in 2 decades, the virus being highly malleable to make it the weapon of choice for corporate sociopaths.
We don't need any more proof that the system they've built for us is not what we've been paying for. The system is serving only those who have paid less and lesser by the day. It's time for the Great Accounting.
You can actually participate in the global efforts to cripple the Deep State organized criminal cabal's ability for genocide, while enjoying healthcare freedom at the same time, by boycotting Big Pharma for good.