Yes, it's summertime here, and typhoons are only expected starting in the month of July, but not this time. We just got our Ambassador to Pakistan murdered, too, in a helicopter crash yesterday.

We've been paying dearly for this covert geopolitical war for the last 9 years now and it's too late to turn our backs from the only hope that we could ever have in this lifetime.


TYPHOON NOUL (DODONG) UPDATE NUMBER 025 [FINAL]
Issued at: 8:00 PM PhT (12:00 GMT) Monday 11 May 2015
---
Typhoon NOUL (DODONG) accelerating east-northeastward farther away from the Batanes Group of Islands…decaying rapidly as it moves over an area of unfavourable sea and atmospheric conditions. Forecast to exit the Philippine Area of Responsibility (PAR) late tonight or early Tuesday.
TYPHOON NOUL (DODONG) UPDATE NUMBER 024
Issued at: 8:00 AM PhT (00:00 GMT) Monday 11 May 2015
Next Update: Monday Evening, 11 May 2015
---
Typhoon NOUL (DODONG) is now tracking northward across the Batanes Islands as it prepares to recurve towards the Ryukyu Islands of Southern Japan…continues to lose strength…strong winds and rains are still prevailing over the Batanes Group.
Residents and visitors along Extreme Northern Luzon incl. Batanes Islands and Taiwan should closely monitor the development of NOUL (DODONG).
SUPER TYPHOON NOUL (DODONG) UPDATE NUMBER 021
Issued at: 1:30 PM PhT (05:30 GMT) Sunday 10 May 2015
Next Update: Sunday Evening, 10 May 2015
---
Super Typhoon NOUL (DODONG) has become a catastrophic tropical cyclone as it strengthens further to
240 km/hr
…endangering Northeastern Luzon particularly Eastern Isabela and Northern Cagayan. Its Eyewall has begun to affect these areas particularly the eastern shorelines…where very strong winds and heavy rains occurring. The Potential Landfall Area of the Eye and its EyeWall will be somewhere along the eastern and northern tip of Northern Cagayan late this afternoon or evening…with a
Strike Probability of 90 to 100 percent
.
Thousands evacuated as typhoon heads for Philippines
Main island of Luzon is expected to bear brunt of category four Typhoon Noul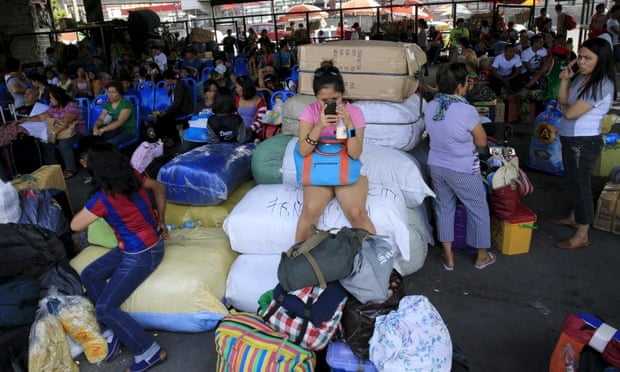 Thousands of people have been evacuated from part of the
Philippines
before the arrival of a typhoon expected to bring winds of more than 100mph.
Typhoon Noul is forecast to bring gusts of up to 122mph as well as sustained speeds of 100mph, plus heavy rain that prompted warnings of landslides in mountainous areas and a 2.5m storm surge along the coast.
The north-east part of the republic's populous main island of Luzon is expected to bear the brunt of the category four storm after it makes landfall around 5am local time on Sunday.
Raben Dimaano, a disaster official in Sorsogon province, said more than 11,000 people were moved to temporary shelters in two towns around Mount Bulusan – a volcano which erupted twice this week – because of the danger of mudflows.
Over the next few hours, mayors in areas likely to be affected will decide whether any further evacuations are necessary, according to the state weather forecaster, which has issued storm alerts in 19 areas on Luzon.
The storm is expected to hit the rice-producing provinces of Cagayan and Isabela before weakening as it moved across the Sierra Madre mountains and into the island's north-east.
"Our advice is for people on the eastern seaboard to avoid outdoor activities," state weather forecaster Fernando Cada said.
Ferry services have already been shut down, leaving nearly 6,000 commuters stranded at ports, according to the National Disaster Risk Reduction and Management Council.
Alexander Pama, the council's head, said Noul's intense rainfall within a 200-mile area could topple power lines, uproot trees, blow the roofs from thatched houses and damage crops like rice and corn in the region.
After hitting land, Typhoon Noul is forecast to veer north toward southern Japan by Monday.
About 20 storms and typhoons enter the Philippines annually. The strongest on record to make landfall –
typhoon Haiyan
– devastated the central Philippines in November 2013, claiming more than 7,300 lives.
The Guardian
For the latest update on Philippine weather, just
click here
.
One of the significant sources of funds for the Nazionist Khazarian Mafia is the healthcare industry which
registered a whopping $3.09 trillion in 2014
, and is projected to soar to $3.57 trillion in 2017, in the US alone. We believe that this is just a conservative figure.
We can avoid using drugs, defeat any viral attack and scaremongering easily by knowing how to build our own comprehensive antiviral system. Find more about it
here
.
You can actually participate in the global efforts to cripple the Deep State organized criminal cabal's ability for genocide, while enjoying healthcare freedom at the same time, by boycotting Big Pharma for good.