Our sincere gratitude to all those who have extended all forms of assistance to my countrymen…
#RubyPH: When foreigners become locals at heart
'Volunteers feel like they are part of this community. We are living here, we are working here. We have to help this community.'
MANILA, Philippines – When it was confirmed that Typhoon Ruby had entered the Philippines and would traverse the same path as Typhoon Yolanda, people began to panic and fear for the worst. (READ: Panic buying as Hagupit threatens to make PH landfall)
Paul Raddant of International Rebuild Director of All Hands Volunteers (AHV), a volunteer driven disaster response and recovery organization, knew panicking would not help anyone.
Raddant, along with 34 All Hands Volunteers, decided to do something positive instead. The volunteers, who were working on transitional homes for people affected by Typhoon Yolanda in Tacloban, stopped their operations on December 5, secured their construction site, and brought all their tools back to their basement with only one question in their minds: "How can I help?"
They coordinated with other international organizations and went straight to bunkhouses to help people prepare their houses for the typhoon.
"With 6 kilometers of rope, we tied down the metal roofs of all the bunkhouses to make sure that roofs will not be blown away," Raddant explained in a phone interview with Rappler.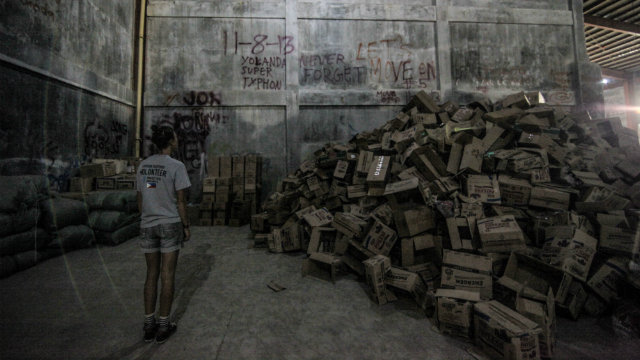 On December 6, the day Typhoon Ruby was expected to lash the city with heavy rains, the volunteers went to different evacuation centers to help pack relief goods. They worked until 3 pm, even if the typhoon was expected by 4 pm.
When 4 pm came, they locked themselves up in their base, and waited for the storm to pass.
The next day, as soon as the sun came out, the volunteers coordinated with the city government and helped in distributing relief goods. They also helped in cleaning the roads blocked by trees and debris.
These international volunteers are no strangers to disasters. They were also present in the aftermath of the Bohol earthquake and when Typhoon Yolanda hit the Visayas last year.
"Many of the volunteers have been here for 6 to 9 months; some even more than a year," said Raddant.
Help is everywhere
International volunteers assisting victims of disasters are not new to Filipinos. After super typhoon Haiyan struck in 2013, international volunteers from as far as Africa flew all the way to the Philippines to help.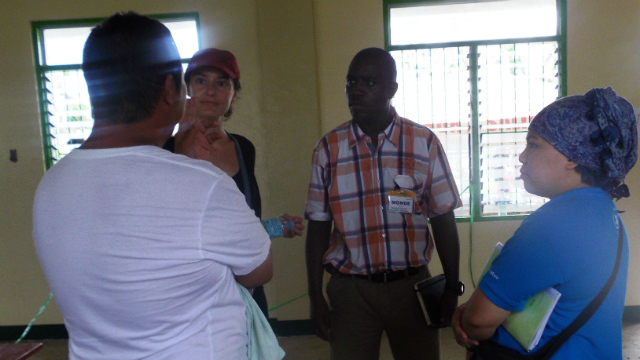 Countries from all over the world were also ready to provide Filipinos financial and medical aid, relief goods, and response teams.
According to the Foreign Aid Transparency Hub (FAiTH), a website set up by the Philippine government that lists down donations for Super Typhoon Yolanda from different countries and international organizations, at least $1.6 billion in foreign aid has been pledged for survivors of the super typhoon.
"People feel compelled to help when they see other people who are in need," explained Raddant.
Not leaving
The All Hands Volunteers came to Tacloban to help survivors rebuild but became victims themselves because of Ruby. They say, however, they are here to stay.
"For Typhoon Ruby, it is different. Volunteers at this point feel like they are part of this community. We are living here, we are working here. We have to help this community."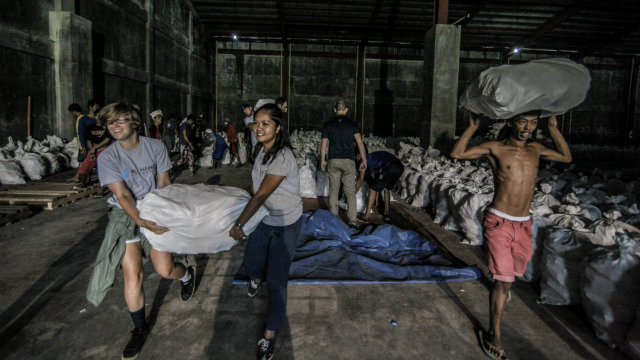 Meanwhile, Raddant encourages volunteers to help if they can.
"We are not only here to help in any way that we can, but we are also here to provide a way for anyone who wants to help, to come and help as well." – Rappler.com
For those who would like to volunteer, please email [email protected]
 source »
Philippines rushes aid to displaced storm survivors
(UPDATED) Military cargo planes will make 8 deliveries to worst-hit Samar province, while 2 Red Cross convoys will deliver thousands of food packs, water purifiers, blankets, and hygiene kits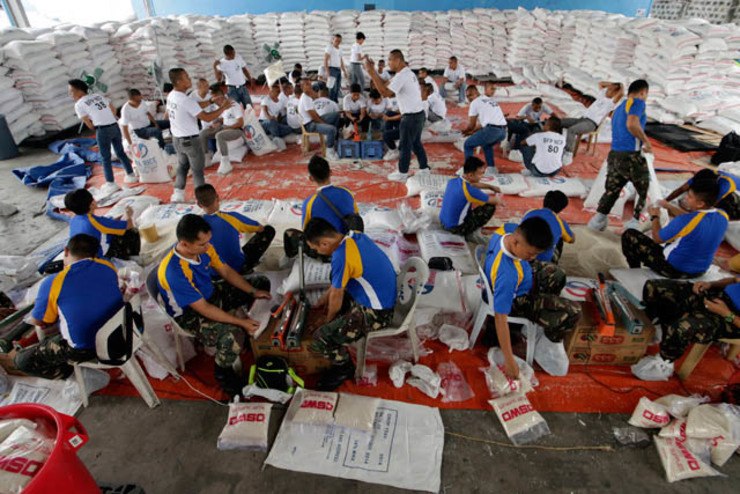 DOUBLE TIME. Volunteers rush the repacking of relief goods at the social welfare department's Pasay City warehouse for areas affected by Typhoon Ruby (Hagupit) in various regions. Photo by Ritchie Tongo/EPA
MANILA, Philippines (UPDATED) – Philippine authorities and aid agencies rushed relief supplies Wednesday, December 10, to hundreds of thousands of people displaced by a powerful typhoon, as survivors sifted through debris to rebuild their lives.
Military cargo planes will make 8 deliveries to worst-hit Samar, a poor farming island in the Visayas, while two Red Cross convoys will deliver thousands of food packs, water purifiers, blankets, and hygiene kits, officials said. (READ: Food, shelter assistance badly needed in Samar)
"We are catching up on food delivery, especially in the far-flung areas, isolated areas in the mountains…. We will strive to deliver to these areas today," Social Welfare Minister Corazon Soliman said in a televized briefing.
An estimated 390,000 people, mostly in Samar, need food and temporary shelter assistance, Philippine Red Cross chairman Richard Gordon told Agence France-Presse.
Typhoon Ruby (international name: Hagupit) left over two dozen people dead, the Red Cross said, after it slammed the central region with 210-kilometer (130-mile)-per-hour winds over the weekend and brushed past the capital Manila.
Over a million fled to shelters ahead of the storm as authorities avoided a repeat of the devastation by Super Typhoon Yolanda (Haiyan) last year, in which 6,300 people died while 1,061 more are still missing.
Nearly 1.7 million people sheltered in evacuation centers as Hagupit passed their areas, according to government figures, and aid agencies hailed the strategy as a template for coping with future disasters. (READ: #RubyPH: One of 'largest peacetime evacuations' in PH history)
Gordon said there would be "sporadic" increases in the Ruby death toll, which it currently pegs at more than 20, but the final count will be "nowhere near" Haiyan, the strongest storm to hit land ever recorded.
Interior Minister Manuel Roxas II earlier said at least 200,000 people on Samar island needed help. (READ: Roxas: Ruby-hit towns, cities will get relief goods)
Roxas, who is overseeing the government's typhoon response, said in the same briefing that airports and main roadways had been cleared for the relief operation.
A "human conveyor belt" was set up in one area to replace a damaged bridge that blocked aid delivery, Roxas said.
After the wave of food aid, the Red Cross will deliver 10,000 galvanized iron roof sheets to those who lost their homes, Gordon said.
Hagupit totally damaged 6,200 houses and partially damaged 7,300 others, Roxas said.
In Catbalogan, a major city on Samar island's western side, thousands have started to sift through debris under the hot sun to rebuild their homes, mayor Stephany Uy-Tan told Agence France-Presse.
"Daily existence here is a struggle for those who are affected," she said.
But food relief from the national government had begun to arrive as roads were cleared were debris, she added.
Before Ruby struck, close to 21,000 people, or one-fourth of the city's population, were moved to shelters in an unprecedented evacuation effort, she said.
"We had a long time to prepare, that's very important," Uy-Tan said.
Cebu relief hub
In Cebu, various organizations and individuals heeded the call of the Department of Social Welfare and Development (DSWD) for volunteers to help repack relief goods at the Cebu International Convention Center (CICC), Petrone, and Sacred Heart.
Business groups – like Jollibee Group Foundation, SM Foundation, BPI Globe BanKO, and 7-Eleven – have also provided food for volunteers doing disaster relief operations.
The provincial government of Cebu also continues to give food for the volunteers.
The DSWD field office in Central Visayas reiterated its call for interested groups and individuals to share their time at the repacking centers. They may coordinate with Jo Belontindos at 09391748342.
Since December 6, a total of 1,752 volunteers have trooped to the 3 repacking hubs. These hubs are the pick-up and delivery points for relief supplies for typhoon survivors in Eastern Visayas. – with a report from Agence France-Presse/Rappler.com
source »
You can actually participate in the global efforts to cripple the Deep State organized criminal cabal's ability for genocide, while enjoying healthcare freedom at the same time, by boycotting Big Pharma for good.