Fasten your seat belts; the long anticipated final phase of the global financial reset is already here.
There's no doubt that the West can still play its military and proxy based color revolution cards but at the end of the day the entire strategy is dependent on their ability to print more paper currency that the armies on the ground are being paid with.

These automatons will end up eating their officials as soon as they realize they've been taken for a ride.
This Monday morning, the Shanghai Composite Index opens at its lowest since 2007. This means that, in spite of the successive attacks on its economic infrastructures, China is not withdrawing from her desire to shutdown the fiat economies of the world by dragging them down along with her own stock market that serves as the interface to the fiat system of the West.


"China's stocks plunged the most since 2007 as government support measures failed to allay investor concern that a slowdown in the world's second-largest economy is deepening.
The Shanghai Composite Index tumbled 8.5 percent to 3,209.91 at the close. The Hang Seng China Enterprises Index lost 6.5 percent at 3:08 p.m. in Hong Kong, heading for its biggest decline since 2011. Futures on the CSI 300 Index fell by the 10 percent daily limit."
Morning Note: 1. All major Asian stock markets red. 2. SHCOMP erases 2015 gain. 3. Brent below $45 1st time since '09 pic.twitter.com/wnUkYBd8Rq

— Jonathan Ferro (@FerroTV) August 24, 2015
Like we have discussed earlier, China can choose her own weapon and she's now using the stock market shock that is already creating the necessary ripples on the rest of the global stock markets to deliberately plunge the fiat slavery system of the West and free its people.
During this simulated crash, China's central bank injected US$23.4 billion to"prop up the yuan" according to Bloomberg. What this meant really is that China is in the process of unleashing all its fiat reserve currencies in favor of real hard currencies that would send the whole fiat financial system crashing down.
Already, a total of US$ 2.7 trillion of global fiat stocks have been wipeout, and this is just the first round.
GLOBAL STOCK SHOCK! China's Stock Market Crash Accelerates – Down 8.5% As Panic In Global Markets Escalates!

With China's stock market crash accelerating, now down 8.5% as panic in global markets escalates, today King World News is pleased to feature a piece from one of the greats in the business discussing the panic in global stock markets and what to expect from here.
Global Stock Shock!
Jason Goepfert at SentimenTrader:  "Stocks have suffered a shock in the past few days, with the largest loss in several years and more than nine months of gains erased after having recently been sitting near record highs … The activity on Friday was so "shocking" that it triggered a number of rare extremes….
A sign of panic is when traders place a higher probability of volatility in the short-term than longer-term. That's what we're seeing now. The short-term premium is nearly 20%. It has been higher only during the worst of the 2008 crisis, the flash crash in May 2010 and near the low in August 2011.


continue reading
Bear in mind that even without a stock market, China can still survive on its own. Her financial muscle is based on real hard assets and she can exchange goods without using paper currency. She can engage in direct barter using its consumer products in exchange for natural gas and weapons from Russia. She can do the same with Iran and other neighboring countries.
She can build roads and bridges in Africa  and Latin America in exchange for the continent's mineral resources. And she has proven to be a worthwhile partner than the US and Europe which have paid no more than lip service and a rock concert to their plight.
And what about the story related to "blood diamonds" where all output of the mining industry involving forced labor in that region controlled by warlords under CIA payroll are being kept inside an underground vault purposely to keep diamond prices higher than it should be. Will these hoard be the Oligarchy's "golden parachute" when the inevitable downfall comes?
Remember the US$555 Trillion worth of derivatives that is serving as the foundation of the economy of the West? That's the amount of imaginary debt that's keeping the Western population and its allied countries in virtual slavery.
That House of Cards is in the final process of being brought down.
The chaos that will ensue in the coming days as a result of what China is now doing is not what has been planned all along. We were given ample time to prepare the population about the operation to shut the powerbase of the enemy down, but only a few tried to disseminate the information as wide and as far as possible.
We were being laughed at most of the time. But now, at this late hour, western pundits, those so called financial experts are still not getting the whole picture although a select few are slowly realizing something big is crashing hard…
China May Be In Chaos But They Possess A Staggering 15,000 – 18,000 Tonnes Of Gold

After a week that saw global stock markets reeling, today one of the top money managers in the world told King World News that China may be in a state of chaos, but they possess a staggering 15,000 – 18,000 tonnes of gold.
Stephen Leeb:  "Right now you have some questions emerging about China.  Maybe I'm the only bull left on China but I still think that China will come out of this and I still think commodities will see another ray of light….
continue reading
So, if a "15 kiloton" of gold can already wreak this type of havoc and solicit kinetic responses, how much more when the mainstream stock market players know the real figures.
It's not just 15,000 or 18,000 tons of gold but a staggering 4.6 billion metric tons of historical gold bullion that's been lent to the West for all its scientific research and discoveries, and all its subsequent development that should have been put to good use for every living soul on this planet, and yet the West decided to use all of them exclusively to feed their own insatiable superiority complex.
About 70% of that historical assets have already been withdrawn causing the financial crash that's been deliberately ignored by Western media. The same asset withdrawal that prompted the massive resignations of the bankers back in 2012. Western banks and related financial institutions were just kicking the can since then.
Now the illusion must end.

More than $5 trillion wiped from equity markets in two weeks
Commodities tumble to 16-year low as oil extends slide
A wave of selling gripped global markets as the rout in all but the safest assets deepened.
Chinese shares tumbled by the most since 2007, stocks in Germany headed for a bear market and commodities fell to a 16-year low. Russia's ruble led a selloff in emerging-market currencies, while the yen strengthened and 10-year Treasury yields slid below 2 percent for the first time since April. Futures signaled U.S. equities will retreat for a fifth day.
"Everyone seems to be selling off, and there's panic," said Michael Woischneck who helps oversee the equivalent of $7.1 billion at Lampe Asset Management GmbH in Dusseldorf, Germany. "There's no rational choice anymore, no rational reaction. The Americans will add to the European selling."
More than $5 trillion has been erased from the value of global equities since China unexpectedly devalued the yuan on Aug. 11, fueling concern that the slowdown in the world's second-largest economy is worse than anticipated. The rout is shaking confidence that the global economy will be strong enough to withstand higher U.S. interest rates, even as bets ease on a September increase.
Stocks bore the brunt of the selloff, with European shares heading for the biggest drop since September 2011 and the MSCI Emerging Markets Index sliding 4.9 percent at 7:51 a.m in New York. Basic-resource producers led losses as Brent crude tumbled through $45 a barrel. Treasury 10-year note yields fell as low as 1.97 percent.
"We're definitely getting a lot of calls from clients," Michele Santangelo, a money manager at Vunani Private Clients, said by phone from Johannesburg. "You're seeing a lot of capitulation, people selling for the sake of selling and wanting to get out of the market."
Shares in all but three company fell in the Stoxx Europe 600 Index, driving the gauge down 4.6 percent. Germany's DAX Index retreated 4.4 percent, taking the decline from its peak in April to more than 20 percent.
Standard & Poor's 500 Index futures dropped 2.8 percent. Investors are selling their most-loved stocks, with Apple Inc. and Netflix Inc. losing more than 4 percent in early New York trading.
The selloff will worsen, according to Doug Ramsey, the chief investment officer of Leuthold Weeden Capital Management LLC, whose quantitative research into market breadth, valuation and investor sentiment foreshadowed the drubbing in American stocks last week."
continue reading
Black Monday: Wall Street plummets 1000 points at opening bell
Published time: 24 Aug, 2015 13:33
Edited time: 24 Aug, 2015 14:13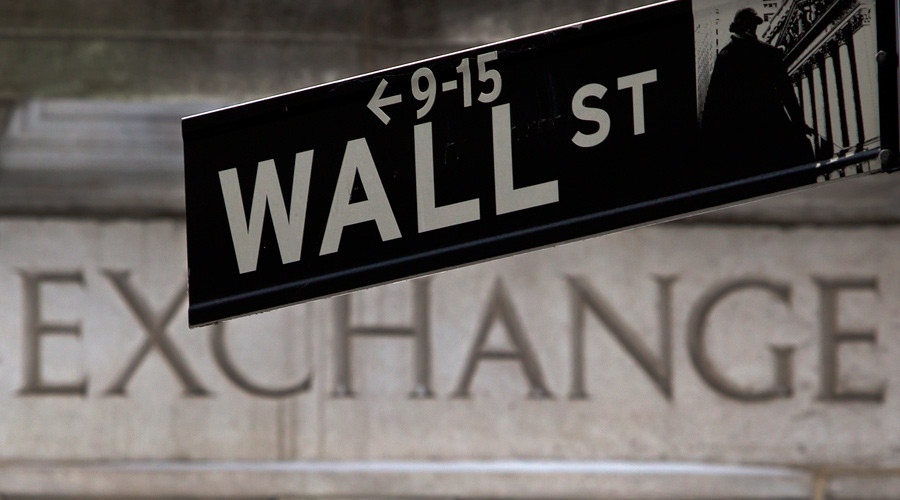 At the opening bell on Wall Street the Dow Jones Industrial index plummeted as much as 1000 points in the first minutes of trading. Later it corrected to 485 points down or around 3 percent. The Nasdaq dropped 8 percent at the start of trading, but is now down 3 percent. The S&P 500 has sunk 4.95 percent.
Breaking: Dow Jones drops more than 1,000 points at the open http://t.co/H89WEacu1C pic.twitter.com/FVoeDJeNHG

— Bloomberg TV (@BloombergTV) August 24, 2015
The grim data was predictable, as before the opening the Nasdaq 100 Index contract dropped 5 percent reaching its daily loss limit. Companies like Apple and Netflix also suffered from a massive sell-off, sinking at least 5.7 percent amid the panic triggered by Chinese stock markets collapse.
https://twitter.com/realDonaldTrump/status/635806464595116032
Dow futures plummeting more than 800 points has allowed The New York Stock Exchange to apply Rule 48 for the Monday stock market open, according to Dow Jones.
The rule was last invoked during the financial crisis, and allows the NYSE to open stocks without indication. "It was set up for situations like this," Art Hogan, chief market strategist at Wunderich Securities told CNBC.
The Dow Jones Industrial Average dropped 1000 points or 6%, to 15,441.
NASDAQ futures slam into downside limit of 5 percent. http://t.co/skNkUh3mYL pic.twitter.com/TMzP7bIDA2

— Bloomberg Markets (@markets) August 24, 2015
The collapse in the US markets was triggered by China where a brutal sell-off saw indexes down 8.5 percent on Monday. Beijing's failure created a domino effect dragging down markets around the world.
London's FTSE is trading 4.93 percent down; faring worse are the Frankfurt DAX is down 6.16 percent, and the CAC 40 in Paris, in the red by 7.59 percent, as of 14:06 GMT.
RT
As much as possible, the East did try to wake up the Western population to bring to justice all those responsible for the proliferation of wars and ethnic conflicts throughout the East and some parts of the West, and yet this earlier call went almost unheeded.
The Green Light has been postponed indefinitely. That would have been the most peaceful option.
Now, let's brace ourselves and prepare for what's to come as the financial sector is being purposely brought down so that the Western population will finally wake up from their deepest slumber. Let's see what's going to happen aside from the new kinetic normal in Asia.
Oh, but wait!
The official representative of the Catholic God here on Earth is on his way to announce the global, across the board, eradication of fiat debt via the United Nations podium.
Praise the Lord!
Alleluia!
Let's postpone the Green Light again.