The final phase of the global financial reset is here and it's ugly for the stock markets worldwide.
It's still red all over the place.

Click image to enlarge.

It so happens that red is the favorite color for the Chinese. And this is "just the first round, Mr. Big Stuff!"
This Monday morning, the Shanghai Composite Index opens at its lowest since 2007. This means that, in spite of the successive attacks on its economic infrastructures, China is not withdrawing from her desire to shutdown the fiat economies of the world by dragging them down along with her own stock market that serves as the interface to the fiat system of the West. read more
From Panic to Judgment Day, Investors Struggle to Describe Rout
Zahra Hankir Maria Levitov
Panic. Judgment Day. Carnage. Meltdown. Fearful. Depressing. Psychologically draining. Wired.
As global markets tumbled, investors, strategists and asset managers across the world struggled for words to describe the selloff that wiped $490 billion from emerging-market equities, dragged Saudi stocks into a bear market and pushed Russia's ruble toward its lowest closing level on record.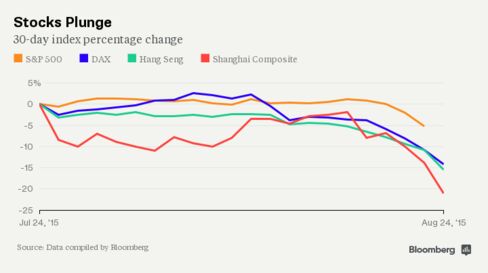 David Welch, the head of equity sales trading at Reorient Group in Hong Kong:
"I'm trying to process the whole thing. It's just ugly."
Michael Wang, a strategist at Amiya Capital LLP, based in London's Mayfair:
"It makes it more stressful and psychologically draining to say the least. It means not losing your head, staying calm and not drinking too much caffeine! It will make you even more wired."
Hertta Alava, who helps oversee the equivalent of about $395 million as the head of emerging markets at FIM Asset Management Ltd. in Helsinki:
"What a Monday! I stare a little more at Bloomberg at home, before work and after work."
Nabil Rantisi, managing director at Mena Corp Financial Services LLC in Abu Dhabi:
"It feels like it's judgment day. I've spent my entire holiday working."
Wafik Dawood, a portfolio manager at Compass Capital in Cairo:
"The situation in Egypt is even more depressing and more intense as investors and traders were hoping recent economic developments would provide a catalyst for markets, but the situation keeps worsening as assets trade in a 'Lehman-style' meltdown."
Darius McDermott, managing director of London-based fund broker, Chelsea Financial Services:
"This is a market meltdown, but it's for different reasons than the 2008 financial crisis. We've had a few clients phoning in and we've been reminding them what their goals are and what their time frame is. Some will want access to capital as they're fearful contagion will continue, but our clients tend to buy funds long term and some are seeing this as a decent buying opportunity."
Sanjiv Bhasin, executive vice president at India Infoline Ltd., the country's largest listed brokerage:
"The simple adage to be followed is fear is greater than greed and in this carnage shorting is the key."
Nilesh Dedhia, a Mumbai-based director at Vidhi Wealth Management Ltd., which oversees about $236 million in assets:
"Just take a break and let the storm settle. We are urging clients to avoid bottom fishing."
Andrew Clarke, director of trading at Mirabaud Asia Ltd. in Hong Kong:
"This move down is likely to cause some nasty margin calls. Brokers are in damage limitation mode. Markets in general have gone into panic mode, or at the very least, are about to."
Chen Gaomin, 26, an individual investor who works at Baidu Inc. in Beijing:
"There is a super gloomy atmosphere talking about stocks. I just want the performance to go back to normal soon, so I can get my money back."
Julian Mayo, co-chief investment officer at Charlemagne Capital in London:
"It's surprising how much of a sell-off it's been. It illustrates how addicted the markets have become to free money."
(An earlier version of this story corrected the attribution in the first quote).
bloomberg.com
#BlackMonday: Twitter Users Try to Keep Calm Amid Stock Markets Crash
17:40 24.08.2015(updated 17:51 24.08.2015)


Although for many keeping calm takes increasingly big effort, Twitter users might offer a much needed source of relative but bittersweet comfort or a tongue-in-cheek take on harsh reality.
https://twitter.com/ParkerMolloy/status/635808433258663936
But there is no shortage of doomsayers painting a picture of an impending financial apocalypse.
Live photo of China's stock market pic.twitter.com/JL9kme4jJU

— Daniel Lin (@danwlin) August 24, 2015
China stock market open….. pic.twitter.com/WCvA6MpU73

— Sicarius (@is_matrix) August 24, 2015
I love when the stock market crashes and every news article shows a picture of a rich white man in distress #BlackMonday

— Romy and Michele (@RomyMichele) August 24, 2015
Some attempt to master the intricate art of irony.
Beijing must be glad something's hitting 7%? #ChinaMeltdown

Shanghai -7.7%
Shenzhen -7.3%
CSI300 -7.7%
ChiNext -7.9% pic.twitter.com/JefvoIf4em

— Haidi Lun Stroud-Watts 伦海迪 (@HaidiLun) August 24, 2015
Others just say it like it is.
This morning on #WallStreet be like… #markets #dowjones #NYSE #footsie #China #Economy pic.twitter.com/7dgqR3WZLZ

— Bruce Mendelsohn (The Hired Pen) (@brm90) August 24, 2015
https://twitter.com/yankeebrit77/status/635748136766586880
You can actually participate in the global efforts to cripple the Deep State organized criminal cabal's ability for genocide, while enjoying healthcare freedom at the same time, by boycotting Big Pharma for good.